Award for Junior Investigator in Pediatrics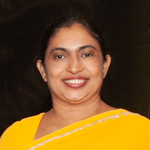 Dr. Devanarayana is Head of the Department of Physiology, Faculty of Medicine at the University of Kelaniya in Sri Lanka.
Her main research area is gastrointestinal function in children with abdominal pain predominant functional/motility gastrointestinal disorders.
Her research also looks at understanding abdominal pain predominant GI conditions, aerophagia, adolescent rumination syndrome, and defecation disorders.
Dr. Devanarayana's studies have contributed to expanding the horizons of knowledge regarding children with these conditions and risk factors of the whole spectrum of pediatric functional/motility gastrointestinal diseases.
Pediatric Science is the area of medical science concerned with infants, children, and adolescents.
---
Where is Dr. Niranga Manjuri Devanarayana Now?

As a part of the 2021 anniversary events, IFFGD created the "Where Are They Now?" interview series designed to allow the gastrointestinal community to reconnect with past IFFGD Research Award winners. We conducted over 30 interviews virtually, to learn about the journey our research winners took and what current research topics they might be working on today. To find out where research award winner Niranga Manjuri Devanarayana is today watch their interview here.