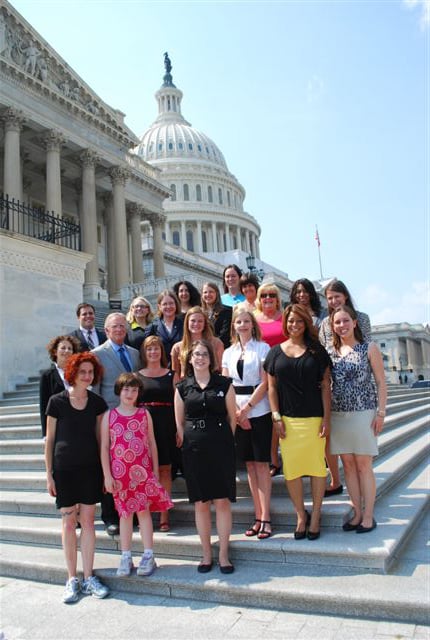 The 2012 IFFGD Advocacy Day took place June 19–20 in Washington, DC. IFFGD/Digestive Health Alliance advocates from across the country gathered in the nation's capital for the annual, twoday event to educate Members of Congress about the needs of the functional gastrointestinal and motility disorders (FGIMDs) community.
A networking dinner on Tuesday evening featured an update on federal research at the National Institutes of Health by Stephen James, MD, Director, Division of Digestive Diseases and Nutrition, NIDDK, and a review of the 2012 IFFGD legislative agenda.
Visiting Congressional Offices
On Wednesday, advocates visited nearly 40 offices meeting with House and Senate staff and Members of Congress to urge support for a legislative agenda focused on bolstering research into functional gastrointestinal and motility disorders and improving patient care. The digestive health advocates represented many different disorders. They shared their personal stories in urging Members of Congress to take action on 3 specific and critical issues:
House Member co-sponsorship of The Functional Gastrointestinal and Motility Disorders Research Enhancement Act of 2011 (H.R. 2239) and the introduction of a companion bill in the Senate
Support of increased funding for the National Institutes of Health (NIH) to a level of at least $32 billion in Fiscal Year 2013
Support for veterans in the FY13 Defense Appropriations bill through the Department of Defense Peer-Reviewed Gulf War Illness Research Program, which provides a source of funding for functional GI disorders research IFFGD Advocates on Capitol Hill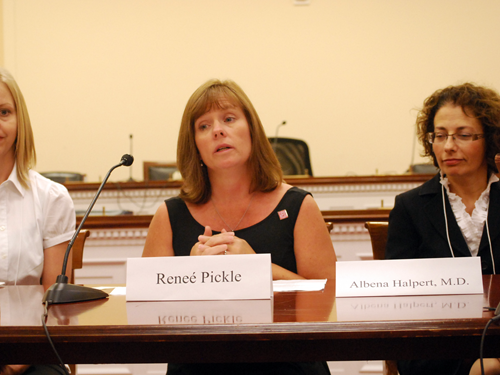 Holding a Briefing
The day concluded with a briefing we sponsored for congressional staff members where many more offices also learned about functional GI and motility disorders. The briefing featured testimony from a practicing physician and two people who live with digestive conditions.
Elisabeth Vink from IFFGD and Albena Halpert, MD, Asst. Professor of Medicine at Boston University School of Medicine described the widespread and complex nature of these disorders, their social and economic costs, the lack of satisfactory treatments, and the need for expanded research. Reneé Pickle, who suffers from IBS and GERD; and Hollie Moots, who suffers from gastroparesis, described in compelling everyday terms the challenges and burdens of living with chronic FGIMDs.
During the discussion that followed, several other advocates, as well as some Congressional staff members, shared personal experiences of living with a FGIMD and supporting the need for improved care.
You Can Help
Please add your voice. You can tell your story and ask your House Member to support The Functional Gastrointestinal and Motility Disorders Research Enhancement Act of 2011 (H.R. 2239) . It only takes a minute or two to make a big difference.
Congressional Call-In Day
On Tuesday, June 12, 2012 the Digestive Health Alliance asked all those whose lives have been impacted by functional gastrointestinal (GI) and motility disorders, including patients, health care professionals, family members, and friends, to please contact their Members of Congress in the US House of Representatives, and ask them to support The Functional Gastrointestinal and Motility Disorders Research Enhancement Act of 2011 (HR 2239).
By joining together on one day, our voices are amplified with one clear message.
In addition to raising critical awareness of functional GI and motility disorders and the needs of patients, passage of this landmark legislation will:
Expand basic and clinical research into FGIMDs by implementing the research recommendations of the National Commission on Digestive Diseases
Grant the National Institutes of Health (NIH) new authority to initiate innovative research projects
Establish a Centers of Excellence Program in this area
Coordinate research activities with the Department of Defense (DOD) and the Veterans Administration (VA) when appropriate
Call on the US Food and Drug Administration (FDA) to improve review, approval, and oversight of treatments for functional GI and motilty disorders
This IFFGD Congressional Call-In Day was coordinated with IFFGD's Advocacy Day on June 19-20, 2012. Your outreach was important to set the stage before advocates arrived in Washington, DC to meet with Members of Congress.