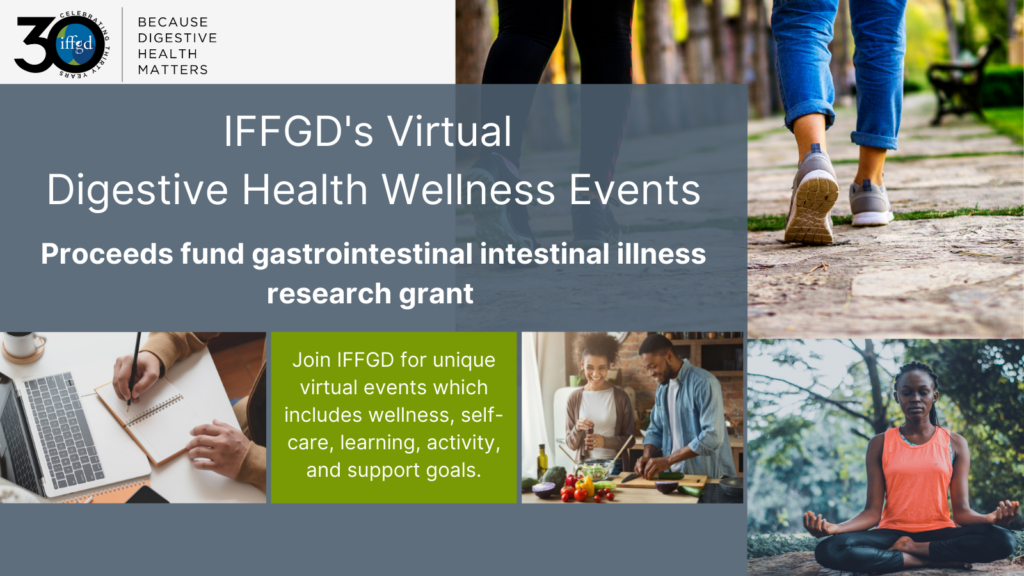 What is Wellness?
Wellness is the quality or state of being in good health, especially as an actively sought goal. Good health can be sought for our mind, body, and spirit.
What is a Wellness Event?
IFFGD's Virtual Digestive Health Wellness Events began in 2021 to celebrate our 30th anniversary. The activities in each event allow individuals to not only focus on their physical health but also their mental health and overall wellbeing. We have incorporated a variety of activities that include but are not limited to: walking, running, swimming, meditation, reading, scheduling doctor's appointments, and so much more. The activities are designed to allow anyone to participate regardless of mobility or skill. The best part is that each participant can choose what activities they participate in based on their interests and abilities.
Are you interested in participating in our 2022 event?
Who Should Get Involved?
Everyone! IFFGD's events are designed so anyone that wants to become involved, can become involved. The events are virtual, usually span several days, and don't require athletic ability or skill.
Why Get Involved?
If you or someone you know has a chronic digestive disorder, you are not alone. Each year, 60 to 70 million people are diagnosed with a digestive disorder in the United States alone. We know the profound effect a disorder like gastroparesis, Irritable Bowel Syndrome (IBS), gastroesophageal reflux disease (GERD), Incontinence, Constipation, and other functional gastrointestinal and motility disorders can have on daily life – on social interactions, on work or school, and on the loss of potential or opportunity. IFFGD is committed to raising funds to help promote ongoing gastrointestinal (GI) research to help treat and manage symptoms for patients worldwide and our wellness events are a way for us to pursue that commitment.
Participating in an IFFGD event supports research for gastrointestinal (GI) disorders and promotes awareness of chronic functional GI and motility disorders. By getting involved, you are showing your commitment to helping others struggling with chronic digestive disorders. And you can have fun while interacting with other participants.
How to Get Involved
There are many ways to become involved in an IFFGD Wellness Event and show your support of the gastrointestinal disorders community:
Register for an event
Share information about your involvement in an event with famiy, friends, and your social following to increase awareness and support
Recruit others to register for an event
Hang and post event posters online and at local businesses and healthcare provider offices
Encourage your GI healthcare provider to register and create a team for their practice to become involved
Fundraise for or donate to an event
Submit your donation for a matching donation to employers with matching gift program
Support a participant through encouraging words, donations, or sharing of posts
Recruit a business sponsor for an event
Share IFFGD posts about the event to promote awareness, encourage participation, and gain support
Contact IFFGD if you need help registering for an event, have questions, or want more ideas on how to get involved.
The Benefit to Gastrointestinal Disorders Research
Event proceeds go toward funding a grant for gastrointestinal (GI) research. In 2022, we were able to award a $30,000 gastrointestinal research grant from the money raised during the 2021 event, Make Moves for GI Health. Our goal is to host an event each year and increase participation, awareness, and the funds raised with each event. Each research grant awarded helps to advance new and innovative research into the causes and treatments of gastrointestinal disorders and ways to improve the lives of those living with a chronic GI illness or motility disorder.