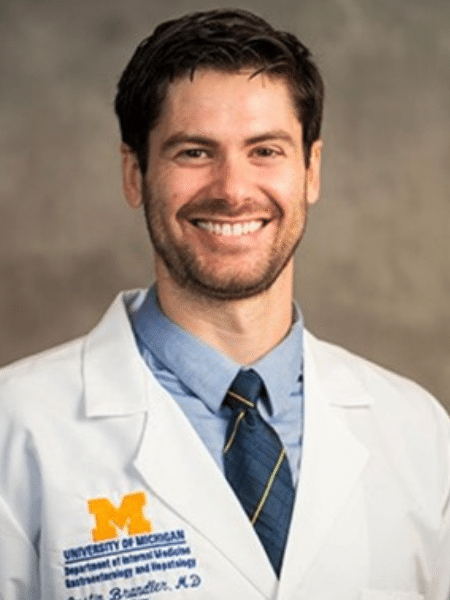 Justin Brandler, MD
Gastroenterology Fellow
University of Michigan
Ann Arbor, MI
Justin Brandler, MD is a gastroenterology fellow at the University of Michigan. Originally from the Pacific Northwest, he attended medical school at the University of Washington in Seattle. He trained at the Mayo Clinic in Rochester, Minnesota for both internal medicine residency and a research fellowship. He is also a husband and father to two boys, 3-year-old, Isaac, and 4-month-old, Joseph.
His clinical and research interests surround GI diseases associated with neurogastroenterology and motility issues. Many of these diseases are commonly referred to as "functional" GI diseases, and more recently are termed "disorders of brain gut interaction." His passion for this field comes from both personal and professional experiences of witnessing the impact these conditions can have on a patient's quality of life. While at times this can be disheartening for both patients and providers, he enjoys working with his patients to achieve their health goals through research-based, creative, and practical management solutions.
Dr. Brandler is also very passionate about education, and was selected for the "Outstanding Resident Teacher Award." Using a blend of science and humor, he enjoyed integrating evidence-based educational principles to present stimulating content and promote long term retention and application.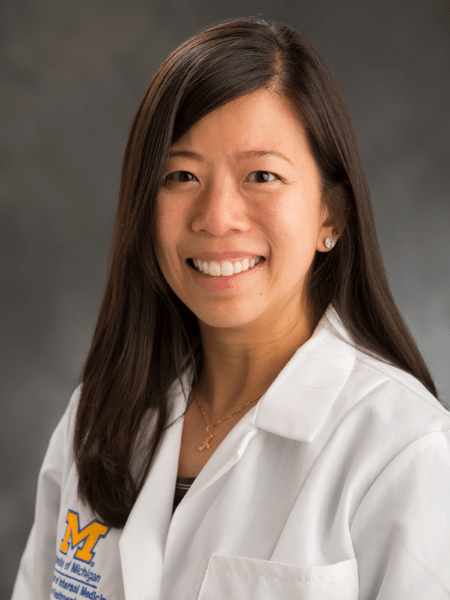 Joan Chen, MD MS
Assistant Professor
Internal Medicine
Division of Gastroenterology
University of Michigan
Ann Arbor, MI
Dr. Joan Chen, MD MS is an assistant professor of Internal Medicine in the Division of Gastroenterology and Hepatology at Michigan Medicine. After her general gastrointestinal (GI) fellowship at Northwestern University, she completed an additional year of advanced esophageal fellowship at Northwestern. She completed a master's degree in clinical investigation.
Dr. Chen has been at Michigan Medicine for seven years, where she is one of the esophageal specialists. Her clinical and research interests include gastroesophageal reflux disease (GERD), specifically the population that are refractory to standard therapy, esophageal motility disorders, and other swallowing disorders including eosinophilic esophagitis (EoE). She is the director of the esophageal motility lab.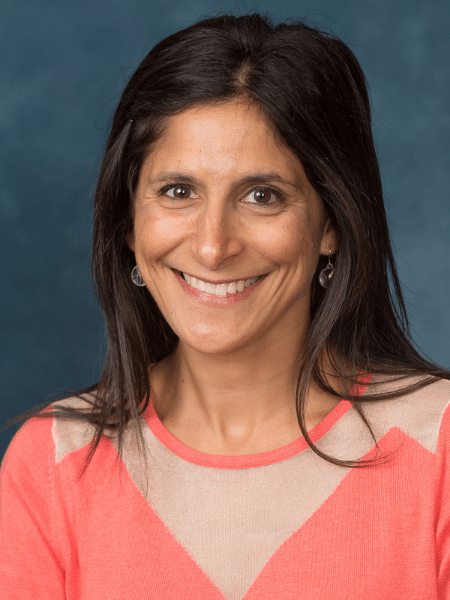 Shanti Eswaran, MD
Associate Professor
Internal Medicine
Division of Gastroenterology
University of Michigan
Ann Arbor, MI
A native of California, Dr. Shanti Eswaran completed both her medical degree and internal medicine residency at the University of Michigan. She went on to pursue her fellowship in gastroenterology at Columbia University Medical Center. She served on the faculty at Northwestern University in Chicago and was thrilled to return to Ann Arbor as faculty in 2009.
She has a research interest in the role of diet and food in functional bowel diseases such as irritable bowel syndrome. Dr. Eswaran's research interests are complemented by her clinical interests in celiac disease and functional GI diseases. She has been named a Rome Foundation Fellow, serves on several national society committees, and has several grants supporting her research. She has written numerous publications pertaining to the role of diet and GI symptoms, and is excited to be a part of this conference.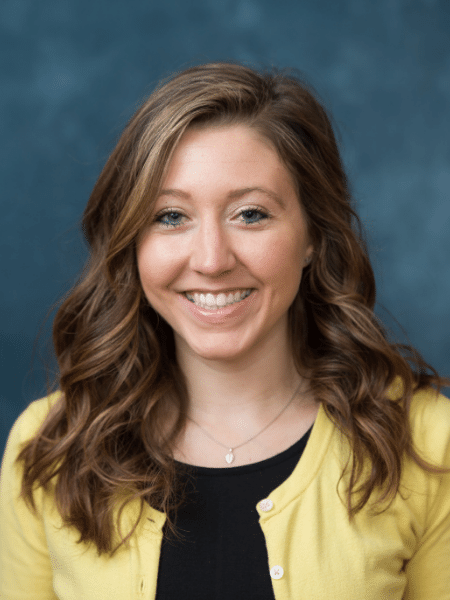 Emily Haller, MS, RDN
Michigan Medicine Gastroenterology Clinic – Taubman GI Clinic
University of Michigan
Ann Arbor, MI
Emily Haller, MS, RDN is a Registered Dietitian Nutritionist and works with the Division of Gastroenterology at Michigan Medicine where she provides individualized nutrition counseling and medical nutrition therapy to patients with a variety of gastrointestinal (GI) disorders including Irritable Bowel Syndrome (IBS), Inflammatory Bowel Disease (IBD), Eosinophilic Esophagitis (EoE), Small Intestinal Bacterial Overgrowth (SIBO), Gastroparesis, and Celiac Disease.
In addition to digestive health, she specializes in plant-based nutrition/diets. Emily helps individuals modify their diet and lifestyle to reduce GI symptoms, achieve a nutritionally balanced diet to support well-being, and meet various health goals.
You can find her @eahaller on Instagram and @ea_haller on Twitter where she posts nutrition and health information.
For more on GI Nutrition services at Michigan Medicine: https://www.uofmhealth.org/conditions-treatments/digestive-and-liver-health/gi-nutrition-therapy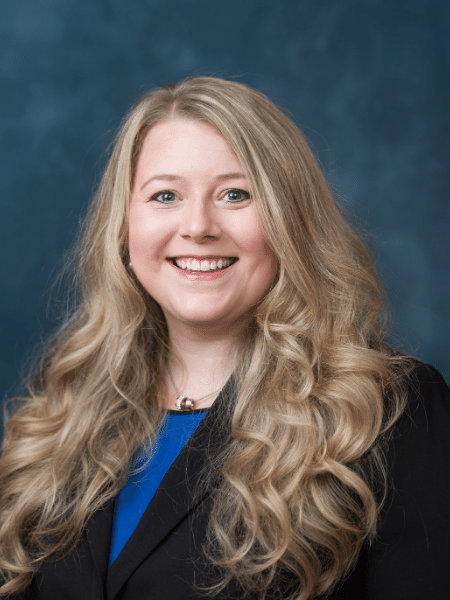 Kimberly Harer, MD ScM
Clinical Lecturer
University of Michigan
Ann Arbor, MI
Kimberly Harer, MD ScM earned her medical degree from the Sanford School of Medicine at The University of South Dakota and then completed her internal medicine residency at Mayo
Clinic in Rochester, Minnesota. She subsequently completed a clinical and research
Gastroenterology Fellowship at Johns Hopkins in Baltimore, Maryland with simultaneous enrollment in the Graduate Training Program in Clinical Investigation at the Johns Hopkins Bloomberg School of Public Health.
She currently specializes in neurogastroenterology and motility at the University of Michigan, where she enjoys her work in both clinical medicine and translational research. Dr. Harer has been awarded the Johns Hopkins School of Public Health GTPCI Clinical Research Award, the American College of Gastroenterology Junior Faculty Development Award, and a NIH T32 training grant.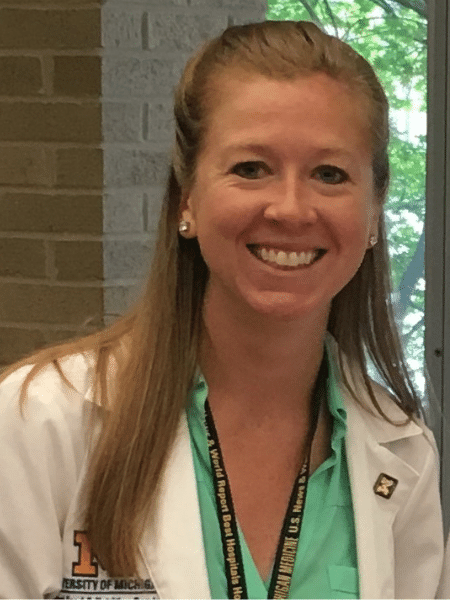 Amanda Lynett, RDN
Michigan Medicine Gastroenterology Clinic – Taubman GI Clinic
University of Michigan
Ann Arbor, MI
Amanda Lynett is an outpatient dietitian with the Department of Gastroenterology & Hepatology at Michigan Medicine focusing on gastrointestinal (GI) health using a "food as medicine" approach. She is co-director for an annual GI nutrition training program for Registered Dietitians called FOOD: The Main Course to Digestive Health.
Amanda obtained her Bachelor of Science in Nutritional Sciences and Dietetics from Michigan State University and completed her dietetic internship at Delta State University. She is currently completing her Master of Science in Nutrition and Dietetics through Central Michigan University. She previously worked inpatient at Michigan Medicine providing medical nutrition therapy to medicine gastrointestinal, general surgery, liver transplant and urology patients. Prior to that, she worked at DMC Harper Hospital providing medical nutrition therapy for the cardiac intensive care unit (ICU), cardiac step-down unit, and cardiac rehab.
Amanda is an active member of the Academy of Nutrition and Dietetics and has held a board position on the Southeastern Michigan Dietetics Association. Personally, Amanda enjoys long distance running, baking, and creating new GI friendly recipes.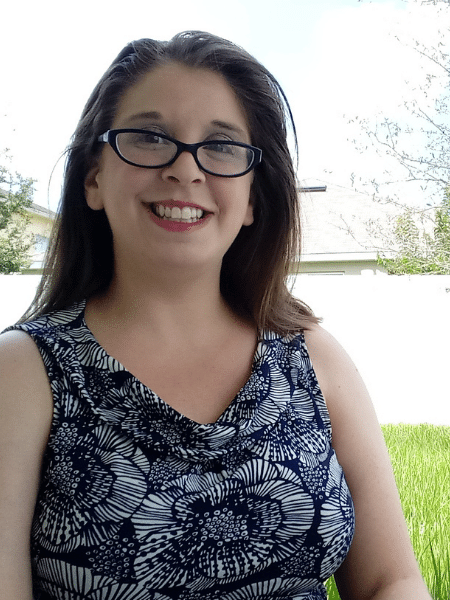 Erin grew up in Voorhees, NJ and graduated from Eastern Regional High School. She spent all four years writing for the school's literary magazine, completed a book of poems, a novel, and wrote several short stories. She also volunteered at Thomas Jefferson University Hospital, in Philadelphia, PA during all four years of High School, which inspired her to pursue a career in healthcare.
She attended Northeastern University in Boston, MA for two years, working towards a degree in Pharmacology. However, she ultimately completed her education at Penn State University in University Park, PA and graduated with her B.S. in Nutritional Science in 2009. Erin currently works as a Registered Dietitian in an acute care hospital near Tampa, FL.
She has been volunteering with IFFGD for over 10 years, advocating for patients and assisting with educational events. She is currently on IFFGD's Patient Advisory Counsel and likes collaborating with other patients with FGIDs.
Erin enjoys playing with her three cats, spending time with her family, and swimming in her neighborhood pool.
The International Foundation for Gastrointestinal Disorders gratefully acknowledges Ironwood Pharmaceuticals and AbbVie Pharmaceuticals for their generous support of the Nancy and Bill Norton Patient Education Series.