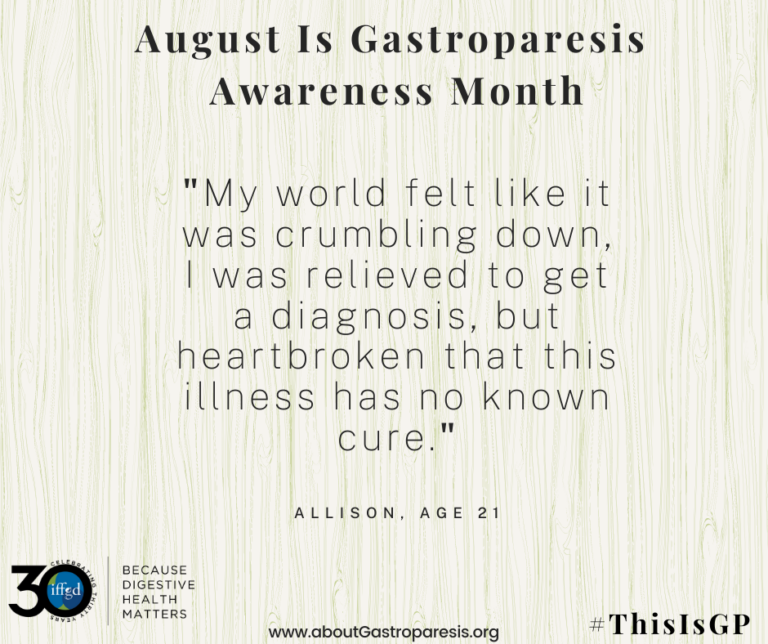 August is Gastroparesis Awareness Month.
IFFGD works to focus attention on important health messages about gastroparesis diagnosis, treatment, and quality of life issues. The goals include improving understanding of gastroparesis to help patients and families manage the condition, and encouraging preventive strategies.
We encourage people experiencing the symptoms of gastroparesis to consult their physicians and to contact us to receive information regarding the condition.
Background
With sponsorship by IFFGD, Gastroparesis Awareness Month was listed on the U.S. National Health Observances Calendar* beginning in 2016. Health observances are days, weeks, or months devoted to promoting particular health concerns. Individuals, health professionals, teachers, community groups, and others can use these special times to sponsor health promotion events and stimulate awareness of health issues.
The number of people with gastroparesis appears to be rising. Yet gastroparesis is poorly understood. More community awareness is needed about the condition.
The more we work together to raise awareness for gastroparesis, the greater our ability to impact positive outcomes, such as additional research  and improved patient care for the functional GI and motility disorders community.
Statement for the Record for Gastroparesis Awareness Month
On July 12, 2016 U.S. Senator Tammy Baldwin (WI) introduced a statement for the record on behalf of the millions of Americans affected by gastroparesis recognizing National Gastroparesis Awareness Month. Read her remarks here.
Gastroparesis Awareness Month Honored
On July 9, 2015 Congresswoman Gwen Moore (WI-4) introduced a statement in the US House of Representatives on behalf of Americans affected by gastroparesis in honor of National Gastroparesis Awareness Month. Read her remarks here.
How you can get involved
Here are a few things you can do to help educate yourself and others and raise awareness for gastroparesis in your community:
Visit our website at aboutGastroparesis.org
Remember, if you have questions specific to a personal health problem, condition, or treatment, talk with your physician or healthcare provider – one who is familiar with and can address your individual circumstances.
*The National Health Observances Calendar was maintained by the U.S. Department of Health and Human Services, Office of Disease Prevention and Health Promotion. These events are now archived.