IFFGD is a leader in the fight for more research to improve diagnostic and treatment options for GI disorders
Research In Our Community
IFFGD is proud to share research from members of our Advisory Board, as well as from individuals within our patient community.
Learn more about what investigators are finding as they search for answers to help those with digestive disorders.
The Gutsy Perspective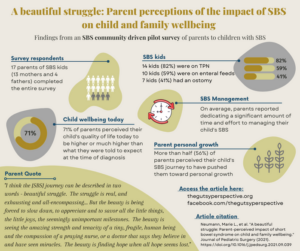 The Gutsy Perspective is a Short Bowel Syndrome (SBS) research that investigates the quality of life of children, adults, and families that have been impacted by pediatric SBS.
The initiative is driven by five members of the short bowel syndrome patient and family community: Marie Neumann, MA (parent); Jessica Allen, PhD (parent); Amy Ladner, MPH (parent); Swapna Kakani, MPH (adult patient); and Meghan Rauen, MA, LPCA/NCC (community advocate)
View Mini Survey Report Findings
Learn more at www.thegutsyperspective.org
Comparing Two Approaches to Help Patients and Doctors Talk about Chronic Pain Treatments — Voices in Pain Care
We are happy to share this research study conducted by Brennan Spiegel, one of our Advisory Board members, and his research team. This study compares two approaches to help patients and doctors talk more effectively about chronic pain treatments and reduce the risks and long-term effects it can have on patients lives. 
Chronic pain is defined as persistent pain that can last months or even years.  Medications such as opioids have been prescribed by doctors in order to treat chronic pain, but these medications can have negative, long-term side effects on the patient's life. 
Learn more about the research results here.