IFFGD's 2022 Virtual Digestive Health Wellness & Walk Event:
A Unique Charitable Event with Achievable Goals for All
Event dates were Saturday, July 9, 2022 – Saturday, July 16, 2022.
Thank you to everyone that participated in the 2022 event.  Below are the event numbers. 
# of Registered Participants: 386
# of Supporters: 481
# of Teams: 39
# of Sponsors: 11
Participants in 6 countries and 34 U.S. states
Registration & Donations: $16,249
Proceeds for GI Illness Research Award: $55,000

# Steps Taken: 17,914,286

# of Wellness\Participation Points: 5,620,453

Scrapbook Posts: 200
The 2022 Virtual Digestive Health Wellness and Walk Event is a charitable event to raise money for gastrointestinal illness research.
Like a traditional walk event, participants register to walk and be active to get credit for steps taken during the event. However, this event goes beyond a step goal by also awarding points to participants for self-care, wellness, and outreach activities.
By adding these alternative activities, we hope that anyone that wants to participate, can participate. #Moves4GIhealth22
The virtual event will span 8 days  starting on Saturday, July 9, 2022 through Saturday, July 16, 2022.  
Anyone that wants to participate, can participate! The event is designed for both athletic and non-athletic participants.  And it is all virtual!
The event will provide goals that can be achieved by people of varying abilities as activities will focus strongly on wellness, self-care, traditional and non-traditional fitness activities. Goals will go beyond physical fitness by encouraging participants to schedule a doctor's appointment or colonoscopy, try a new gut-friendly recipe, or start a diary of their food and/or symptoms.
Participants are awarded points for wellness, self-care, outreach, and physical activity which allows anyone regardless of mobility to participate. 
Event Registration Details
The event registration offers four levels to participants.  The higher the level selected, the more benefit for the registrant. 
Note: Bronze level registration does not include a t-shirt. Event t-shirts will be mailed after the conclusion of the event.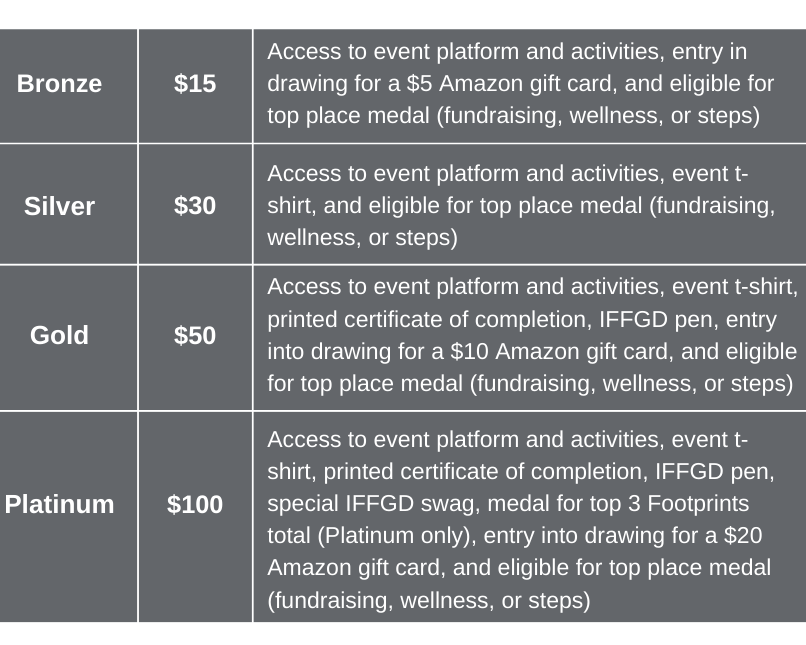 There are many ways for participants to earn points regardless of fitness level and mobility. Event categories include self-care activity, physical activity, and fundraising.
Self-Care & Wellness Activity: 

Participants will enter self-care activities in the event platform to receive the points allotted for the activity. A few of the activities include scheduling a healthcare provider appointment, reading, meditation, keeping a food\symptom diary, donating, volunteering, hydrating, and participating in an IFFGD Twitter Chat. A full list of self-care activities is below and will be available to participants. 
 Physical Activity: 

Steps and activity earn points toward your overall total. Whether you are an occasional exerciser or training for a marathon. Everyone can participate at their own level. Several fitness trackers like Fitbit, Apple Health Kit (Apple Watch), and more can be linked to the event platform to sync steps. Steps can also be entered manually through mobile application or website.
Fundraising: Upon registration, a fundraising page is created for each participant. Participants can share this page on their social platforms or with supporters directly to get donations to support their involvement in the event. Participants receive points for donations made on their fundraising page but they are not required to fundraise.
During the event, IFFGD will utilize the event platform chat to engage participants while offering opportunities to earn wellness points.  Some of the week's activities include:
Posting links to videos on IFFGD's YouTube channel
Sharing educational fact sheets and recipes from IFFGD's publication library
Hosting a special edition of the IFFGD Digestive Health Twitter Chat, GI Behavioral Health and Wellness, on Monday, July  11th, at 3:00 p.m. EST
Proceeds for Gastrointestinal Research
One of the event goals is to raise money to fund a grant for gastrointestinal (GI) illness research while providing education and raising awareness about chronic gastrointestinal illnesses.
The event proceeds will be used to fund a research grant for gastrointestinal illness research. 
Participating in a fun and worth-while event is rewarding, but it can be exciting to win an accolade for an accomplishment.  This year's event offers the opportunity for registrants to win small awards as individuals and as part of a team.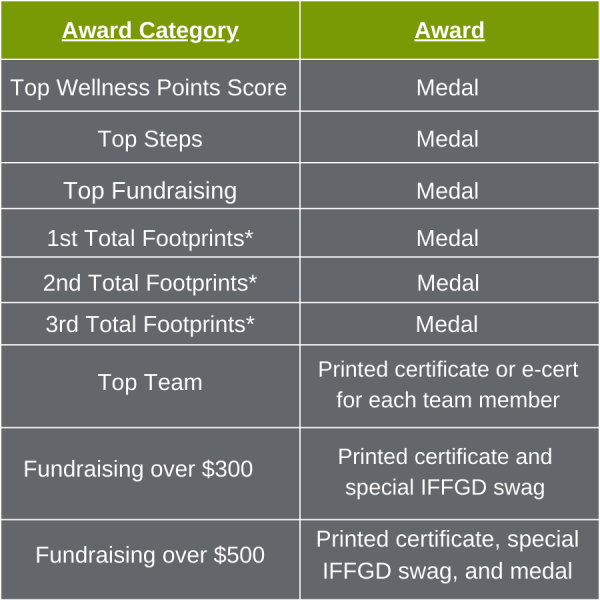 Note: In the event of a tie, the winner will be determined by drawing from eligible winners. *Only Platinum level registrants are eligible. 
Register, Donate, or both! And mark your calendar with event dates so you can join the fun.
Start to recruit others to create a team, have more competition, or to raise more for research.
Share information about the upcoming event on social channels, with family & friends, and healthcare providers in your network.  The event media toolkit with suggested posts, flyer, and images is available to help. 
Get ready to support research for gastrointestinal illness. 
Frequently Asked Questions
How do I get credit for my physical and wellness activities? Steps can be automatically linked to the event by linking your fitness tracker or manually entered. Other physical or wellness activities will need to be entered in Charity Footprints by logging in and selecting Add New Activities.  The list of options will be available in the drop down.
Can I participate if I don't have a fitness tracker? Yes! Keep track of your steps or miles using a pedometer, your phone, or other device. Then manually enter the steps into Charity Footprints.
Can I get credit for physical activity i.e. swimming, weightlifting, housework, etc.? Yes, use the exercise conversion chart provided to translate the activity into steps. Then enter the steps manually into Charity Footprints.
Do I have to fundraise? Fundraising is not required to participate. However, this is an activity that will get you more points toward your total and more funding for the research grant for gastrointestinal illness research.
What if I want to be on a team but don't have one? You can email jmdumont@iffgd.org and request to be added to an IFFGD team. We are always happy to have new members!
Why are my steps from my activity tracker 

not showing

? Check to verify that you have sync your tracker to its application. Then open the Charity Footprints application. This should sync the steps. Email jmdumont@iffgd.org or use the chat in the event if you need more assistance.
 Are the activities cumulative for the whole event? Yes, the wellness and physical activities from July 9 – July 16, 2022 are totaled for your final score. 
When do I get the event t-shirt? T-shirts will be mailed at the conclusion of the event. We do this to allow registration and participation through the event end date and to ensure that we only order the exact number of shirts needed.  This allows us to keep expenses down while still getting everyone a shirt. 
Have other questions? Contact jmdumont@iffgd.org or watch our event informational video.
Looking Back at the 2021 Virtual Walk
The International Foundation for Gastrointestinal Disorders (IFFGD) gratefully acknowledges the following companies for their generous support of IFFGD's 2022 Virtual Digestive Health Wellness & Walk Event.
Email iffgd@iffgd.org if you would like information on becoming an event sponsor