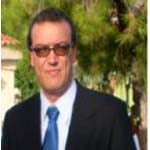 Javier Santos, M.D.
Hospital General Vall d'Hebron, Barcelona, Spain
Dr. Santos is the 2009 recipient of the IFFGD Research Award Junior Investigator – Clinical Science. His research focuses on the pathogenesis of irritable bowel syndrome (IBS). He is pursuing, through a comprehensive approach, a detailed knowledge of physiology and sequential pathophysiology of chronic intestinal inflammation, as a potential nexus to prevalent digestive diseases associated with changes in barrier function, motility and visceral sensitivity. In particular, he is studying a prominent feature in the intestine of certain IBS subgroups, the presence of mucosal inflammation and immune activation and its link to IBS symptoms. He is studying the role of psychosocial stress and its ability to disturb the functional homeostasis inherent to the gut epithelial barrier, as well as gender-related susceptibility for IBS.
---
Where is Javier Santos Now?

As a part of the 2021 anniversary events, IFFGD created the "Where Are They Now?" interview series designed to allow the gastrointestinal community to reconnect with past IFFGD Research Award winners. We conducted over 30 interviews virtually, to learn about the journey our research winners took and what current research topics they might be working on today. To find out where research award winner Javier Santos is today watch their interview here.