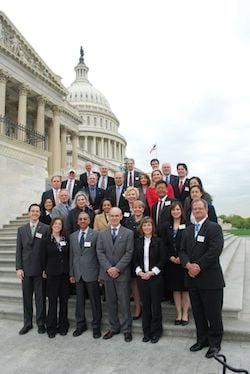 In April 2010, twenty-eight digestive health advocates met in Washington, DC for the IFFGD Advocacy Day. This two-day event featured a networking dinner, comprehensive advocacy training sessions, and meetings with congressional offices to advance the legislative agenda on behalf of those with functional GI disorders.
The event was attended by advocates from around the USA. All stakeholders in the functional GI and motility disorders community were represented. Patients, family members, and friends joined with physicians and scientists to urge legislators to increase critical research funding and raise awareness of these conditions.
On the morning of April 13th, advocates met at the U.S. Capitol for a breakfast and a review of how to make an effective congressional visit. Then, they traveled to the Capitol Hill offices of their Members of Congress. While meeting with congressional offices, advocates urged their Members of Congress to support 3 critical issues:
Introduction of legislation to emphasize and increase support for research and education, the IBS and Functional GI Disorders Research and Treatment Act.
Introduction of a Congressional Resolution recognizing the need to increase critical awareness and research for IBS and functional GI disorders.  
Substantially increasing overall funding for the National Institutes of Health (NIH) at a level of $35 billion in fiscal year 2011 to support bio-medical research, including expansion of the federally supported functional GI and motility disorders research portfolio.
Thanks to the hard work and outreach of advocates, progress is being made in all of these areas on behalf of persons affected by digestive health issues.