Award for Pediatric Investigator — Clinical/Basic/Translational Science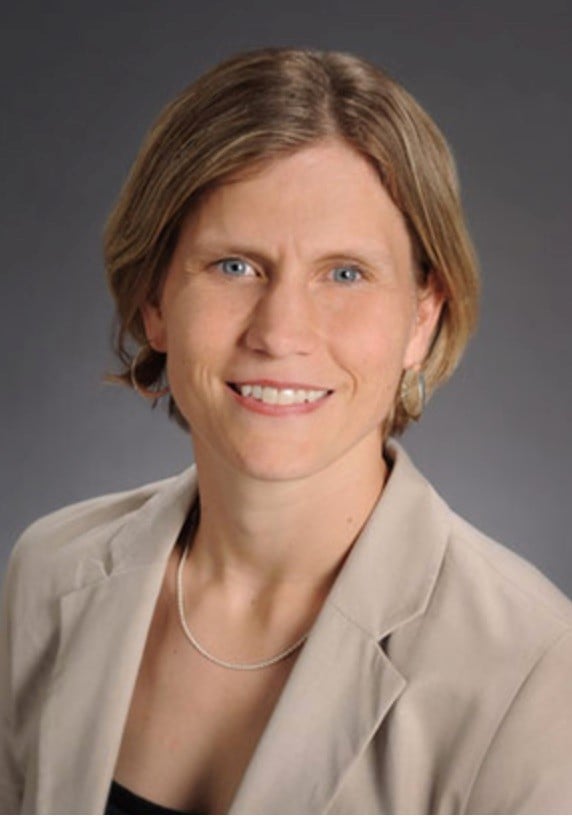 Dr. Kovacic is an Assistant Professor of Pediatrics at the Medical College of Wisconsin and serves as the Director of Pediatric Gastrointestinal Motility and Cyclic Vomiting Syndrome programs within the Pediatric Neurogastroenterology, Motility, and Autonomic Disorders Program at Children's Hospital of Wisconsin.
She is very active in clinical research with a focus on pediatric functional nausea and vomiting disorders.
Dr. Kovacic's work currently focuses on investigating brain-gut mechanisms of auricular neurostimulation via functional neuroimaging, for which she has secured an NIH-funded mentored career grant. She is specifically interested in developing novel neuromodulation therapies and investigating the effects on brain-gut interactions.
Pediatric Science is the area of medical science concerned with infants, children, and adolescents.
Q&A with Dr. Kovacic
Question: You were presented with a 2018 IFFGD Research Recognition Award for your work on functional nausea and vomiting disorders in children. What led you to this field of study?
Answer: I have mostly been fueled by the observation of how disabling and common these disorders are within pediatric gastrointestinal (GI) practice and how little is know about them. This means that there are very few targeted treatment options and most children are treated with a garment of drugs that may cause serious side effects. The most troubling aspect of functional nausea and vomiting disorders is the complex overlap between the fields of gastroenterology and neurology and the need for GI clinicians and researchers to consider treatments that are outside of their fields of expertise. I have been fortunate to learn from several esteemed mentors within the field of Neurogastroenterology at the Medical College of Wisconsin.
Q: What are some of the challenges you have had to overcome in your research?
A: The struggle of finding time for highly demanding and complex patient care while completing research projects, grant applications, and finding a work life balance has been the biggest challenge for me. I have been fortunate to have the support of my department Chair, section Chief, and colleagues at the Medical College of Wisconsin that started early in my career. This has allowed me to be successful through protected research time and having the proper mentorship. Because of this support, I have been able to obtain funding from the National Institutes of Health (NIH) that will support my work. Organizations such as the American Neurogastroenterology & Motility Society (ANMS) have also played an important role in helping me start up my research career. Without such support, junior investigators like myself would struggle to get their research career off the ground. Unfortunately, I see many talented individuals give up this career path due to lack of support or early success. The IFFGD Research Recognition Award is a wonderful testament to my research achievements that helps strengthen my career.
Q: Historically, functional nausea has been understudied and may not be recognized by the parents of children experiencing symptoms, potentially delaying diagnosis and care. Yet, the symptoms can greatly disrupt a child's day-to-day activities and prevent them from fully engaging in school and social activities. Why do you think this condition has not received the same attention as certain other functional disorders and what can we do to raise awareness?
A: I believe this issue links back to the overlapping fields and a certain lack of GI physician training in caring for children with functional GI or Neurogastroenterology problems. Patients with functional nausea frequently suffer from disordered control of the autonomic nervous system or 'dysautonomia.' I believe this syndrome is more common within functional GI disorders than commonly recognized, in particular in patients with functional nausea. As GI physicians, we have very little training and experience treating these disorders. Although brain-gut dysfunction is well recognized within functional GI disorders, it is still poorly defined and autonomic disorders are often considered a separate problem. To complicate things, most patients with autonomic nervous system imbalance also suffer from anxiety which is often part of the syndrome. This often leads to frequent misdiagnosis of pure psychiatric disease which adds to the frustration of families and patients.
I believe a bigger problem is lack of awareness and lack of recognition of problems with other body systems that closely interact with the GI tract. We tend to focus a lot on the gut and bowel symptoms rather than brain and neurological symptoms which are out of our comfort zone. I think more research and evidence supporting some of these findings is a crucial first step, followed by broader provider education.
Q: Your research is primarily focused on the application of an ear neurostimulation device for functional nausea and cyclic vomiting syndrome (CVS). The device was previously found to help reduce symptoms in adolescents with pain-related disorders, such as irritable bowel syndrome (IBS). How does stimulation in the ear help relieve symptoms in the GI tract?
A: I believe this therapy targets the abnormal brain-to-gut signals and the autonomic nervous system imbalance that underlie many functional GI disorders. There is ample laboratory data showing that branches of several cranial nerves, including the vagus nerve, project directly from the ear to the brainstem. These nerves reach nuclei in the brainstem that modulate nausea and vomiting signals and have close connections with other areas of the brain involved in pain processing. The vagus nerve is of particular interest since non-invasive, auricular stimulation is likely to alter vagal nerve signaling. We are currently carrying out additional studies to investigate this and also to determine the broader effects of this therapy on specific brain regions. Various forms of ear neurostimulation techniques have been used for centuries, but this particular device is able to more broadly stimulate cranial nerves and for longer periods of time, something that is not possible with other external devices or acupuncture. Most importantly, children and families and extremely satisfied and excited about this very safe and alternative non-pharmacological treatment approach. Finding novel therapies that are safe and effective, particularly for children, is what really drives me to continue my research efforts.
Q: Therapies like the ear neurostimulation device have progressed as more sophisticated brain imaging techniques have become available. As the science continues to develop, what do you see for the future of these therapies and the science of neurogastroenterology?
A: I believe the future treatment for functional GI and motility disorders lies in various forms of neuromodulation therapies. There are emerging data suggesting that abnormalities in how different brain areas communicate with each other play an important role in the symptoms experienced by patients with functional GI disorders. This supports the idea of stimulating peripheral nerves that communicate with the brain, particularly in areas that process signals from the gut. Both gastric electrical stimulation (gastric pacemakers) for gastroparesis and sacral nerve stimulation for defecation disorders have recently emerged as successful novel therapies and are thought to influence these nerve pathways. Unfortunately, many of these options are very invasive and need surgical implantation. These concepts are still evolving.
I believe that developing less invasive neurostimulation techniques with a better mechanistic understanding of specific functional bowel disorders will be crucial for the advancement of our field in the upcoming years.
Learn more about IFFGD's Research Awards
---
Where is Dr. Katja Kovacic Now?

As a part of the 2021 anniversary events, IFFGD created the "Where Are They Now?" interview series designed to allow the gastrointestinal community to reconnect with past IFFGD Research Award winners. We conducted over 30 interviews virtually, to learn about the journey our research winners took and what current research topics they might be working on today. To find out where research award winner Katja Kovacic is today watch their interview here.