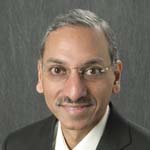 Satish Rao, M.D
Medical College of Georgia, Augusta, GA
Dr. Rao is the 2009 recipient of the IFFGD Research Award Senior Investigator – Clinical Science.  His research interests focus on the pathophysiology and treatment of IBS, constipation and fecal incontinence and visceral pain, particularly esophageal chest pain. He has pioneered several new techniques of evaluating esophageal, gastric, colonic, and anorectal function, in particular the brain-gut axis. He also has developed a technique of biofeedback therapy for dyssynergic defecation, and he is currently investigating the neurobiologic mechanisms of biofeedback therapy. In addition, he is studying new treatments for fructose intolerance. A recent study on Dietary Fructan malabsorption may reveal the existence of another common dietary source of symptoms in subjects with functional gastrointestinal disorders.
---
Where is Dr. Satish Rao Now?

As a part of the 2021 anniversary events, IFFGD created the "Where Are They Now?" interview series designed to allow the gastrointestinal community to reconnect with past IFFGD Research Award winners. We conducted over 30 interviews virtually, to learn about the journey our research winners took and what current research topics they might be working on today. To find out where research award winner Satish Rao is today watch their interview here.