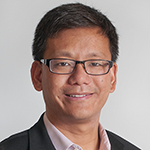 Dr. Kuo is an Assistant Professor of Medicine at Harvard Medical School and Director of the GI Motility Laboratory in the GI Unit at Massachusetts General Hospital in Boston, MA.
His work in functional GI and motility has focused on brain-gut interactions using functional magnetic resonance imaging (MRI) for gut sensations such as nausea, pain, and feelings of fullness (satiation). He is also exploring the use of technologies to non-invasively measure gut transit and motility in health and diseases such as gastroparesis, functional dyspepsia, and constipation.
IFFGD Grant – With support of the IFFGD grant, Dr. Kuo's research will aim at using MRI as a non-invasive way to measure gut transit and motility as well as to better understand the biomechanical properties of the stomach wall and motor function in individuals.
The ultimate goal is to have one technique that doctors can use which tests for multiple abnormalities at the same time, and serves as a guide for diagnosis and individualized treatment in idiopathic gastroparesis.