Award for Basic/Translational Science Investigator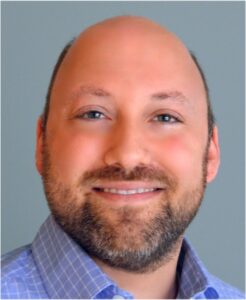 Dr. Levinthal serves as Assistant Professor in the Division of Gastroenterology, Hepatology, and Nutrition at the University of Pittsburgh Department of Medicine and Director of the Neurogastroenterology and Motility Center at the University of Pittsburgh Medical Center, where he leads an active research program that spans clinical, translational, and basic science research projects focused on understanding the neural basis of mind-body interactions in gastrointestinal (GI) health and disease. He hopes one day to translate his initial neuroanatomic findings into clinical trials of brain-based therapies for patients with refractory functional GI disorders.
In addition to his longstanding interest in understanding the nature and impact of GI symptoms associated with neurological illnesses, he is currently pursuing translational and clinical research in patients with cyclic vomiting syndrome (CVS) and is involved in research into determinants of CVS disease severity and the development of novel therapeutic interventions in this population.
Dr. Levinthal is passionate about improving the clinical care of patients with functional GI and motility disorders, particularly those with severe forms of illness that have proven resistant to typical therapies. He has been involved in the development of care models that emphasize a holistic approach, leveraging mind-body interventions and wellness initiatives, and his Neurogastroenterology and Motility Center includes GI-dedicated psychologists and close collaborations with physical therapy and chronic pain physicians to implement truly integrated, interdisciplinary care in a large, tertiary-care referral center.
Basic Science is the fundamental approach to understanding how systems work. Basic science research takes place in the laboratory and often involves the study of molecules and cells.
Translational Science is the conversion of basic science discoveries into the practical applications that benefit people.
---
Where is David Levinthal Now?

As a part of the 2021 anniversary events, IFFGD created the "Where Are They Now?" interview series designed to allow the gastrointestinal community to reconnect with past IFFGD Research Award winners. We conducted over 30 interviews virtually, to learn about the journey our research winners took and what current research topics they might be working on today. To find out where research award winner David Levinthal is today watch their interview here.