Award for Senior Investigator in Clinical Science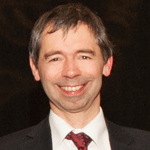 Dr. Tack is currently Head of Clinic in the Department of Gastroenterology, Professor in Internal Medicine and Chairman of the Department of Clinical and Experimental Medicine at the University of Leuven, Belgium.
His research lies in the field of neurogastroenterology and motility, and includes diverse topics such as understanding the factors underlying functional dyspepsia, gastroesophageal reflux disease (GERD), and irritable bowel syndrome (IBS); the control of hunger and food intake; and the physiology and pharmacology of the enteric nervous system, GI hormones, and intestinal inflammation.
His research has also contributed to new treatment approaches for disorders including gastroparesis, reflux disease, IBS, and functional dyspepsia.
Professor Tack is in charge of a large translational research group, addressing various aspects of basic and clinical gastroenterology.
Clinical Science is the research approach aimed at understanding the diagnosis and treatment of diseases and disorders through studies involving people, usually carried out in clinical settings.
---
Where is Dr. Jan Tack Now?

As a part of the 2021 anniversary events, IFFGD created the "Where Are They Now?" interview series designed to allow the gastrointestinal community to reconnect with past IFFGD Research Award winners. We conducted over 30 interviews virtually, to learn about the journey our research winners took and what current research topics they might be working on today. To find out where research award winner Jan Tack is today watch their interview here.