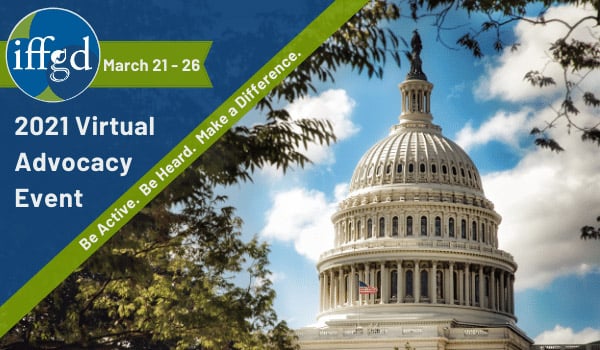 ---
For the millions of Americans living with the debilitating and sometimes life-threatening symptoms of a chronic gastrointestinal (GI) or motility disorder, the fight for awareness, research into safe and effective treatments, and cures are ongoing.
But Members of Congress can help.
IFFGD's Virtual Advocacy Event will be a week long event educating and empowering advocates from across the nation — patients, family members and friends, and healthcare providers. This educational opportunity will provide information on how patients and caregivers can find the support they need. Advocate training will educate viewers on ways to engage with Federal agencies to help shape research and policy decisions; to effectively share personal experiences; and educate key policymakers in Washington about the needs of the millions of Americans affected with GI illness.
Together, we will make the voice of the digestive health community heard and encourage Congress to prioritize actions that will lead to greater awareness and the development of new treatment options and cures.
An online Education Program will be held on Sunday, March 21st. This program will include discussions on how to locate and utilize various forms of support; facebook, online and in person groups, financial and travel.
Monday, March 22nd will begin a week dedicated to advocating Congress. During this week we will have three evening programs highlighting advocacy and support from government agencies. Please refer to the Advocate Training Materials and email advocacy@iffgd.org with any questions or comments.
About IFFGD's 2021 Virtual Advocacy Event
Whether you are living with a chronic GI condition or you know someone who is, you understand the true impact of these conditions on those affected and the need for greater research funding for treatments and cures. IFFGD's Virtual Advocacy Event provided participants with the opportunity to share this impact with elected officials and advocate virtually with others just like you. Please email advocacy@iffgd.org if you have any questions relating to this event or future advocacy efforts.
---
Sunday, March 21st, 2021
Finding Help Through Support Groups on Facebook
Many people have a difficult time finding a Facebook support group that best suits their needs. Learn more about what to look for in a Facebook support group to help narrow down your search. You will hear from a few disease specific support groups. Although we do not specifically endorse these groups, they are examples of what a positive and helpful support group can look like. We hope these interviews will highlight the unique benefits of support that can be found on social media.
In-person and Online Support Groups
Now more than ever, it may be hard to locate support groups because in-person meetings are being transitioned to virtual platforms. Learn about organizations who provide both in-person and online support groups for various GI conditions. These interviews take place with leaders of various disease specific support groups. Although we do not specifically endorse these groups, they are examples of what a positive and helpful support group can look like. Each discussion will educate viewers on the organization while highlighting the unique benefits that in-person and online support groups can provide for the community.
Developing a Comprehensive Support System
Building a well-rounded support system is important to ensure the best quality of care for all GI patients. These video discussions will educate viewers on types of support that are not always thought of. Hear from organizations that both provide resources and help to further connect patients to needed resources. For those who need to travel for appointments or scheduled procedures, learn about an organization that helps to offset financial burdens by providing free or discounted air travel. Those who are limited by dietary restriction may benefit from hearing more from an organization that provides gluten free food pantries. While developing a comprehensive support system, you can benefit from learning about an organization that encourages patients to take part in integrative medicine. 
Also included in this session is more information on the many resources IFFGD has made available to the GI community.
---
Monday, March 22nd, 2021
Advocacy Education
To start this week of advocacy, learn more about the importance of your advocacy efforts. Those who are new to advocacy as well as those who have years of experience will benefit from this education program. Viewers will learn more about Congress and how it works, how to contact and follow-up with Congress, as well as IFFGD's legislative priorities for the GI community. The session will end with an opportunity to submit questions and have them answered live.
---
Tuesday, March 23rd, 2021
Governmental Support
Government agencies provide support in a variety of ways. First, learn about a youth program from the National Institute of Digestive and Kidney Diseases (NIDDK) that seeks to engage minority students who may otherwise have difficulty entering the research field. This program engages students in high school, undergraduate, and at the graduate levels and enables them to become involved in science and research. Travel can be especially difficult for those impacted by chronic GI conditions. You will also hear from the Transportation Security Administration (TSA) on the support they provide for patients when they travel. This session will help you to learn more about the steps you can take to have the best possible travel experience, especially for those with specialized medical equipment. It is important for Veterans to be aware of the resources made available to them by the United States Department of Veteran's Affairs (VA). Viewers will learn about research that is being conducted to better understand the high rate of GI conditions in Veterans and to improve treatment options. Gulf War Illness and other GI conditions that commonly impact Veterans will also be discussed in this session. For those who feel they are impacted by these conditions, information will be provided on what resources are available and how to utilize them.
---
Frequently Asked Questions
---