Pharmacologic and Surgical Treatment for Disorders of the Stomach
Presented by Michael Camilleri, MD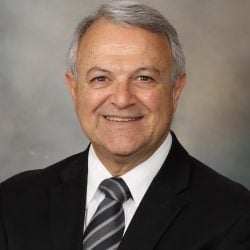 This is a review of the current evidence of the effectiveness of drugs (unapproved by the Food and Drug Administration), potentially used for the treatment of gastroparesis and dyspepsia. The surgical approaches reviewed in this abstract, are endoscopic gastric per-oral endoscopic myotomy (G-POEM) and sleeve gastrectomy for gastroparesis. 
Approaches for Gastroparesis: Objectives 
Candidate Drugs for Gastroparesis

The selective NK1 receptor antagonists, tradipitant and aprepitant
Ghrelin receptor agonist: Relamorelin
5-HT4 receptor agonists: Felcisetrag

Medications for Dyspepsia Associated with ↓ Gastric Accommodation

NK1 antagonists
Dopamine receptor antagonist: trazpiroben

Surgical and Procedural Approaches for Gastroparesis

G-POEM
Laparoscopic sleeve gastrectomy
Michael Camilleri is a consultant in the Division of Gastroenterology and Hepatology at Mayo Clinic in Rochester, Minnesota, and is Professor of Medicine, Pharmacology, and Physiology at Mayo Clinic College of Medicine and Science. His research interests include clinical enteric neurosciences, gut neurohormonal control, obesity, irritable bowel syndrome (IBS), and pharmacology and pharmacogenomics; his work is funded by National Institutes of Health.
He has received numerous awards and honors, including the 2012 Ismar Boas Medal from the German Society of Digestive and Metabolic Disease, the 2012 American Gastroenterological Association (AGA) Distinguished Mentor Award, the Janssen Research Award, the AGA Joseph B. Kirsner Award, the AGA Julius Friedenwald Medal in 2021, as well as honorary doctorates from the University of Antwerp (Belgium) and the University of Malta, and he was elected to the membership of the prestigious Association of American Physicians. Dr. Camilleri participates in educational and mentorship activities at Mayo Clinic and has mentored more than 80 national and international postdoctoral fellows and scientists. He maintains an active clinical practice in gastroenterology at Mayo Clinic, specializing in gastrointestinal motility disorders, gastroparesis, and functional GI disorders. He is past-president of the American Neurogastroenterology and Motility Society and the American Gastroenterological Association, former editor of Clinical Gastroenterology and Hepatology and Neurogastroenterology and Motility, and is currently an associate editor of American Journal of Physiology