Physician Introduction on Diarrhea
Presented by Brooks Cash, MD, AGAF, FACG, FACP, FASGE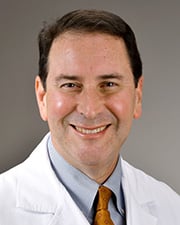 Presentation Overview on Diarrhea
Diarrhea is characterized by loose or watery stools and is often accompanied by increased stool frequency and/or fecal urgency. In addition to actual form of the bowel movement, clinicians should also ask patients what they mean by "diarrhea." Many people use the term "diarrhea" to imply more frequent bowel movements and frequent defecation with normal consistency stool is not diarrhea, but rather pseudo-diarrhea.
There are 3 classifications of diarrhea, based on the duration of symptoms. Acute diarrhea lasts for < 14 days, persistent diarrhea lasts 14-30 days, and chronic diarrhea lasts for more than 30 days. These classifications of diarrhea help to inform the differential diagnosis and thus the evaluation of diarrhea. Acute diarrhea is often infectious, persistent diarrhea is mostly infectious, and chronic diarrhea is rarely infectious. Finally, patients may also have intermittent diarrhea that persists for several weeks with asymptomatic intervals, and this form of diarrhea should generally be considered, and evaluated as chronic diarrhea.
Acute diarrhea accounts for more than 180 million cases/year or 0.6 episodes/person/year in the US and chronic diarrhea defined by a duration of symptoms > 4 weeks is estimated to affect 1-5% of the population of developed countries. The differential diagnosis of chronic diarrhea is extensive and includes (but is not limited to) functional gastrointestinal disorders such as irritable bowel syndrome with diarrhea (IBS-D), chronic idiopathic diarrhea, maldigestion syndromes, chronic infection, autoimmune or inflammatory disorders such as inflammatory bowel diseases or celiac disease, or an altered gastrointestinal bacterial environment in the small and/or large intestines.
General initial approaches to evaluate diarrhea include determining whether the diarrhea is inflammatory or non-inflammatory based on patient descriptions. Another approach is to determine if the diarrhea is secretory or osmotic. Osmotic diarrhea occurs due to the ingestion of solutes that trap water and will improve with fasting, while secretory diarrhea occurs when fluid is actively secreted into the gastrointestinal tract (example: cholera) and does not improve with fasting. Clinicians should also inquire about the presence of "alarm" features such as blood in the stool, unintentional weight loss, nocturnal symptoms that wake patients from sleep, recent antibiotic use, or travel to areas where sanitation is substandard. When present, alarm features should prompt a more directed and possibly more extensive evaluation to exclude organic disease as a cause for diarrheal symptoms.
The treatment of diarrhea should be directed towards identified causes. It has been estimated that no cause can be identified in up to 50% of cases of chronic diarrhea. In that situation, therapies to minimize the symptoms of diarrhea by improving stool consistency, reducing stool frequency, and/or reducing stool weight should be initiated. Such efforts will usually involve medicines that decrease gastrointestinal motility, increase gastrointestinal absorption of fluid, block intestinal secretion of fluid, or modify enteric contents. There are many medications that work via these mechanisms. The most common include loperamide and diphenoxylate/atropine, eluxadoline, rifaximin, and alosetron. The latter three are FDA approved for IBS with diarrhea and have the strongest evidence base for the treatment of chronic diarrhea associated with IBS. Multiple other therapies, such as absorbent clays and resins, antibiotics, and agents with hormonal effects can also be used in specific circumstances.
Brooks D. Cash, MD is Chief of the Division of Gastroenterology, Hepatology, and Nutrition at the University of Texas Health Science Center at Houston, where he is also the Dan and Lillie Sterling Professor of Clinical Gastroenterology at the University of Texas McGovern Medical School and the Endowed Director of the Chao-Ertan Directorship at Memorial Hermann Hospital Texas Medical Center. Dr. Cash received his undergraduate degree in Business Administration (Finance) with Honors from the University of Texas in Austin and earned his medical degree from the Uniformed Services University of Health Sciences in Bethesda, MD. He completed his internship, residency, and gastroenterology fellowship at the National Naval Medical Center in Bethesda, MD, and served for 24 years in the United States Navy, retiring in 2014. Dr. Cash has authored over 200 articles and book chapters on a wide variety of gastrointestinal topics. His clinical interests include functional gastrointestinal disorders, colorectal cancer screening, artificial intelligence, and Barrett's esophagus. He was recognized as one of the best gastroenterologists in Houston by Houstonia magazine in 2019 and a 2020 Top Doctor by Texas Monthly magazine. In 2020, he was one of three recipients of a Rome Foundation Fellowship and was recently appointed to the Rome V Functional Bowel Disorders Committee.