Patient Perspective on Gastroesophageal Reflux Disease (GERD)
Presented by Luiz T. Yamashita Jr.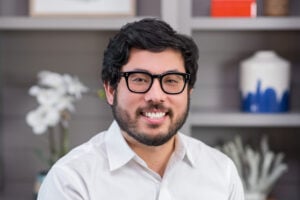 Luiz gives the patient perspective on living with gastroesophageal reflux disease (GERD) including the importance of good communication with a healthcare provider. 
Luiz T. Yamashita, Jr, CCIM, CIPS, TRC, joined Dunes Commercial properties in March of 2014 as a multilingual real estate agent with experience in Investment and Commercial Properties. Luiz is fluent in English, Portuguese, and Spanish. In 2015 Luiz became a partner with the firm, and in 2017 Luiz became its managing partner and broker-in-charge.
Luiz is a multimillion-dollar broker helping individuals and institutional clients to achieve their goals. Luiz's experience with real estate ranges from single real estate transactions to complex investment portfolios.
Recent transactions as a real estate broker include the purchase of a vacant parcel for a retail, warehouse, and residential master plan in the town of Awendaw, the purchase of a vacant parcel for a landscaping business in West Ashley, the acquisition of a Dental practice in Sumter, South Carolina as an investment asset for a foreign investor, the lease of a medical practice and retail space in West Ashley, the lease of an office location for a local business in downtown Charleston, the lease of a new restaurant and retail location for a business in Mount Pleasant, the lease of a martial arts studio in Myrtle Beach, the lease of a governmental agency location in Mount Pleasant, the lease of a warehouse for an online business in expansion, and the lease of a retail space on King Street.
Currently Luiz has been retained by a developer to place a few national grocery stores in the state of South Carolina, by an investor to sell investment properties in Charleston, by land owner of 900 plus residential lots in Greenville to identify potential developer-buyers, by a C-Store and QSR developer to identify new sites for development, by national ice cream brand to identify new sites for their expansion on the coast of South Carolina, and by an out of town investor to purchase properties for a 1031 exchange transaction.  
Prior to joining dunes commercial properties, Luiz worked twelve years at Bloomberg LP leading teams in the areas of product development and product implementation, where he managed several client accounts (i.e. UBS, Merrill Lynch, Wells Fargo, and Deutsche Bank), and reported directly to Bloomberg LP's CEO Dan Doctoroff on several strategic initiatives. Luiz started his career with Bloomberg at their office in Sao Paulo, Brazil, where he was born and raised, and he worked in their New York headquarters prior to moving to South Carolina.
In Sao Paulo, Luiz earned his Bachelor's degree in Business Administration and Finance and graduated with honors at FAAP – Fundação Armando Alvares Penteado. Luiz, along with two of his colleagues, received an ABN Amro Bank Award for their graduation thesis entitled Future Markets Operations to Hedge and Leverage Agribusiness.
Luiz is married to Susan Martin Stox Yamashita, a Lowcountry native with family roots in Charleston. Together they have one son, Thomas, who is a happy and active young boy.
Luiz is a member of the Charleston Investment Division, Commercial Real Estate advisor to Lowcountry Local First, and member and sponsor to the Friends of Brookgreen Gardens. In his recent past, Luiz also served as executive board member to Montessori School of Pawleys Island and as an adviser to Project A.L.S in New York City.