Patient Perspective on Constipation
Presented by Erin Slater, RD, LDN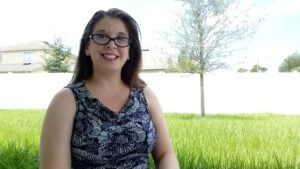 Erin grew up in Voorhees, NJ and graduated from Eastern Regional High School. She spent all four years writing for the school's Literary magazine, completed a book of poems, a novel, and wrote several short stories. She also volunteered at Thomas Jefferson University Hospital, in Philadelphia, PA during all four years of high school, which inspired her to pursue a career in healthcare. 
She attended Northeastern University in Boston, Mass for two years, working towards a degree in Pharmacology. However, she ultimately completed her education at Penn State University in University Park, PA and graduated with her B.S. in Nutritional Science in 2009.  Erin currently works as a Registered Dietitian in an acute care hospital near Tampa, FL.
She was diagnosed with Functional Abdominal Pain Syndrome and IBS-C in 2009 after suffering with symptoms for five years. As a result of her illness, she began volunteering with the IFFGD, dedicated to ensuring that no person with a complex GI disorder ever felt forgotten. She is currently on IFFGD's Patient Advisory Council and Board of Directors.
Erin enjoys playing with her three cats, spending time with her family, and swimming in her neighborhood pool.
Erin will be discussing her life with chronic constipation, overcoming chronic pain and her mission to help others with GI Disorders.