Patient Perspective Irritable Bowel Syndrome with Constipation (IBS-C)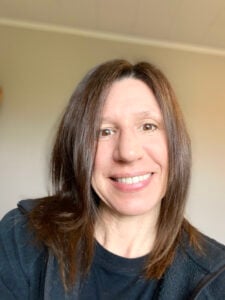 Deb Caton is a 50-year-old mother of two teenagers, 16 and 17, and is currently a Content Developer with the Learning Organization at Dow Chemical in Midland, MI. Prior to this she taught high school and college-level English and psychology for about 17 years. She loves everything to do with learning, and when she is not working, she enjoys reading, working out, and sunshine. She is currently addicted to audio books.
Deb struggles to recall a time when gastrointestinal (GI) issues have not been a part of her life, including stomach aches as a child, especially when over-tired or stressed, torn rectal tissue from straining and constipation, and worsening bouts of nausea, constipation, and diarrhea that seemed to have no rhyme or reason. By early college, she never went anywhere without her trusty bottle of Pepto Bismol, a pack of gum, and a container of Tic Tacs. She finally visited her first GI doctor around 2008. After her gall bladder removal around 2010, she received her first official diagnosis of IBS, but did not receive any useful guidance for what to do other than to avoid fried foods and red meat. Following this advice; however, did not solve the ongoing GI problems. Despite her struggles, she remained very active and generally healthy, always working out and staying busy. She felt strong on the outside, but she was always anxious about her health and gut symptoms. One thing she kept hidden from almost everyone was her intense fear of vomiting (known as emetophobia), a result of a childhood trauma, that impacted her daily habits and relationships.
Her GI struggles got slowly but steadily worse. In the summer of 2019, Deb decided to discontinue an anti-anxiety medication she had been on for almost 10 years because her life was going well but she often felt flat emotionally. Shortly after this, her GI problems intensified, and she started trying to figure out the cause on her own. She also started losing weight because eating became slowly more difficult. She located a second GI doctor. A colonoscopy and yet another doctor telling her she had IBS, along with a failed visit with a nutritionist who told her to increase fiber and water intake, led her to reach out to the GI department at the University of Michigan. She had to wait 3 months to be seen, then Covid hit, so her first visit in March 2020, was a phone call. By the end of June 2020, she had fallen from her steady, healthy weight of 115 lbs. to 80 lbs., was severely malnourished, and was barely functioning. She checked herself into the hospital and had an NJ feeding tube placed. What her doctor guessed would be two months of a tube turned in to 8 months and included countless trips to the hospital, any number of tests, and the building of a team of health care providers including her new GI doctor, a dietitian, physical therapists who specialize in pelvic floor disorders, a GI psychologist, a psychiatrist for medication management, a trauma-focused therapist, and a third psychologist to work on CBT and exposure therapy to work on her emetophobia, as well as a new mini-pharmacy next to her bed. Now, just more than a year after her first visit at U of M, and a year since getting her feeding tube, Deb is on a solid path toward healing and adjusting to her new normal. She hopes and plans to get back to her strong self and run a 5K in September 2021.