Pharmacologic and Surgical Treatment for Esophageal Disorders
Presented by Ronnie Fass, MD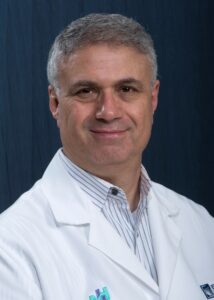 Pharmacologic and Surgical Treatment for Esophageal Disorders
Ronnie Fass, MD

GERD treatment– Antacids – Were the standard treatment in 1970's. They are effective in controlling mild symptoms of GERD. They are commonly taken after meals and at bedtime, usually in response to heartburn symptoms. They are good for immediate effect, but not so effective for prevention or healing esophageal inflammation.
Histamine 2-Receptor Antagonists (H2RAs) – Block the action of histamine on the parietal cells (make acid) in the stomach decreasing the production of acid by these cells.  First line agents for patients with mild to moderate symptoms and inflammation. Good for fast effect (30min,). Can heal mild to moderate inflammation and can prevent symptoms.
Proton pump inhibitors (PPIs) – reduce the production of acid by specifically blocking the enzyme in the wall of the stomach that produces acid. The best medications for symptoms and esophageal inflammation prevention, for symptoms control and for healing esophageal inflammation. Concerns about side effects when used long term. Overall safe, the risks of all side effects appear to be small. Should be used for the right indication and in the lowest does that control symptoms.
Fundoplication and the LINX procedure are the surgical approaches for GERD. Transoral Incisionless Fundoplication and the Stretta procedure are endoscopic therapies for GERD. Proper patient selection for both interventions is key for successful outcome.
Eosinophilic esophagitis – An immune response to food trigger. Treatment primarily includes, elimination diets (milk and wheat), acid suppression (PPIs), topical steroids and esophageal dilation
Disorders of Esophageal Function (Motility) –
Esophageal hypomotility disorders (weak or absent function of the esophageal body and/or lower esophageal sphincter),
Anti-reflux treatment – PPIs or surgery
Lifestyle changes (decrease food consistency, sufficient chewing, eating in upright position etc.)
Medications to Improve function
Esophageal hypermotility disorders (spasm or strong contractions of the esophageal body),
Anti-reflux treatment – PPIs or surgery
Lifestyle changes (warm water with meals, avoid iced
cold and carbonated beverages)
Muscle relaxants
Botox injections
Surgery
Achalasia – Lack of normal contraction of the esophagus and relaxation of the lower esophageal sphincter due to damage to the nerves that innervate the esophagus
Muscle relaxants
Botox injections
Pneumatic dilation
POEM – Peroral endoscopic myotomy
Surgery – Heller Myotomy with Dor fundoplication
Disorders of Gut-Brain Interaction (Functional GI Disorders) – Include Functional heartburn, reflux hypersensitivity, functional chest pain, functional dysphagia, and globus. Main treatment include medications that reduce sensation in the esophagus called Neuromodulators.  Treatment may also include cognitive behavioral therapy, hypnotherapy and others.                      
Ronnie Fass, MD
Professor of Medicine, Case Western reserve University Cleveland, Ohio USA
Ronnie Fass, MD, is the Medical Director of the Digestive Health Center, Chairman of the Division of Gastroenterology and Hepatology, and head of the Esophageal and Swallowing Program at the MetroHealth Medical Center, Cleveland Ohio. He is also a tenured professor of medicine at Case Western Reserve University. Dr. Fass did his internship and residency in internal medicine at the University of Arizona Health Sciences Center, where he later became a Chief Resident. He then completed a fellowship in gastroenterology at the University of California in Los Angeles where he focused on GI motility and functional bowel disorders.
Dr. Fass has served in leadership positions in many societies. He is the former treasurer of the American Neurogastroenterology and Motility Society as well as the chair of the education committee. The former member of the Nominating Committees of the Upper GI Section and Neurogastroenterology and Motility of the American Gastroenterological Association (AGA).  He has served as the chair of the Functional Esophageal Disorders committee for Rome IV, Membership committee of the American Neurogastroenterology and Motility Society, Practice Parameter Committee and Audio Committee of the American College of Gastroenterology (ACG) and the Publication Committee of the American Society of Gastrointestinal Endoscopy (ASGE). He has also served as a member of the management committee of the journal Neurogastroenterology and Motility.  Moreover, Dr. Fass has served as a member of many committees in different GI societies.  Currently Dr. Fass serves as a member of the World Gastroenterology Organization (WGO) Guidelines and Publications committee, member of the ACG Digital communications and publications committee, member of The American Forgut Society (AFS)  research committee, member of the International Society of Diseases of the esophagus (ISDE), education committee and the ACG GI on demand task force steering committee.  In addition, Dr. Fass has served on the ANMS/EMS consensus group for Refractory GERD and as a core team member of Chicago Classification 4.0. He is currently a member of the EndoFlip experts panel working group, Rome V for functional esophageal disorders and the multi-society guidelines for endoscopy credentialing. (representative of the AFs).
Dr. Fass is the editor-in-chief of the Journal of Clinical Gastroenterology and he is the editor-in-chief of the Journal of Neurogastroenterology and Motility. Dr. Fass is a frequent lecturer and presenter and is a reviewer for more than 70 journals. He is and has served on the editorial board of 27 journals.
Dr. Fass is the recipient of the American Gastroenterological Association Award for Digestive Sciences in Clinical Research, the Southern Arizona VA Health Care System Investigator of the Year Award, and the International Foundation of Functional Gastrointestinal Disorders Senior Clinical Investigator Award. He has received the University of Arizona Dean's Research Award, the Glaxo Institute of Digestive Health Clinical Research Award twice, the American College of Gastroenterology Research Award three times, the American Medical Association Resident-Mentor Award twice, and the American Journal of Gastroenterology Outstanding Reviewer Award. In 2021 he received Mastership of the American College of Gastroenterology.
Dr. Fass has been selected as one of the Best Doctors in Arizona between 2004 and 2011, Best Doctor in Northern Ohio between 2012 and 2016, Castle Connolly Top Doctor from 2015-2021 and America's Top Doctor in 2021. Dr. Fass was named World's Leading Expert in the research and treatment of GERD (press release 11/2013) and World's expert in esophageal motility disorders (Press release 7/2019) by Expertscape.com.
Dr. Fass has published more than 450 articles, editorials and commentaries in journals such as Gastroenterology, Gut, American Family Physician, American Journal of Gastroenterology and Archives of Internal Medicine. He has published three books and has written 62 book chapters, including 2 chapters in UpToDate.