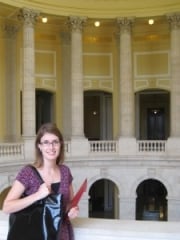 Mollee
Gastroparesis
August 26, 2011
Over the past few months, with the help of the staff from the IFFGD, I've written letters to my Congressman and Senators regarding issues that affect those with gastroparesis. The IFFGD staff suggested it might be good to follow up on my letters with a personal visit. At first, I was a little scared, but I decided to go for it, and I'm glad I did.
When I arrived in D.C., I met two of IFFG's Washington representates (Hi Lori and Terrell!), and we had lunch at America restaurant in Union Station. In case you're curious, I ordered the turkey burger with a side salad instead of fries and cole slaw, and I only ate half the burger and some lettuce from the salad. Snazzy place. So anyway, they went over our schedule with me, and we practiced what we'd say in our meetings with legislative staff members. Then we got to it!
Before I forget, I have to mention how nice Lori and Terrell were for going up and down hundreds of stairs with me all day instead of using the elevators (they make me nauseous) — thanks guys!
We had 15-minute meetings with four different individuals in the offices of Virginia Congressmen and Senators, including the offices of Senator Jim Webb, Congressman Robert Hurt, Congressman J. Randy Forbes and Congressman Eric Cantor. We also dropped off an information packet at the office of Senator Mark Warner. Most of the legislative correspondents we spoke to were young women like me, so it wasn't that intimidating after all.
Lori opened up each meeting by briefly explaining what the IFFGD is, and then she introduced me. I spent about five minutes telling my gastroparesis story, and then I asked for three things that Lori and Terrell had prepped me on beforehand:
1) To increase funding for the National Institutes of Health (NIH) to $35 billion in 2012.
2) To cosponsor the Functional Gastrointestinal and Motility Disorders (FGIMD) Research Enhancement Act — H.R. 2239 — in the House, or to introduce a similar bill to the Senate.
3) To work with the Food and Drug Administration (FDA) and Centers for Medicare & Medicaid Services (CMS) to ensure insurance coverage for FDA-approved treatment options like Enterra therapy.
Oh, and in the Senate office we visited, I actually asked for one more thing:
4) To include FGIMDs in the Department of Defense (DOD) Peer-Reviewed Medical Research Program.
Terrell closed each meeting by asking questions about the likelihood of the office to take action on these issues, and Lori left an information packet for their review. She's also going to send follow-up emails to each person we met with.
Do I think it'll work? Well, I don't know. Request No. 1 is pretty tricky right now given the current debt situation in the U.S. As for No. 2, we got an almost definite "no" from the office of Eric Cantor. I guess since he's the House Majority Leader now, he doesn't cosponsor much legislation anymore. We'll see about the other guys though. I have the most hope for help regarding the last two issues. The girl we talked to in Congressman Forbes' office mentioned that he might be interested in writing the FDA and CMS on our behalf (No. 3), and the girl at Senator Webb's office said that she'd look into helping with No. 4, since Webb often takes an interest in defense-related issues.
So even though I might not have changed the world, I got a lot out of the experience:
It was nice visiting the Capitol again — I hadn't been there since my 3rd grade field trip.
It was great to meet Lori and Terrell and learn more about the work they and others in their office are doing for people with all kinds of different health problems.
I taught four more people what gastroparesis is. Each time I told my story, I'd say, "I'd never heard of gastroparesis when I was diagnosed with it. Have you ever heard of it?" They all answered "no."
I learned a lot about how government really works. Did your mom ever use the expression "the wheel that squeaks gets the grease"? Mine did, too. Well, that's how America is. We have to tell our Congressmen and Senators what we want. Oh, and identify yourself as a "constituent" when doing so. That's a powerful word, my friends.
I found out that it's going to take a lot more than just little old me going to Congress one time to ever really do anything about these issues. That's why I encourage all of you to get involved with the IFFGD. Their little pamphlet says, "Our strength is in numbers. We stand up together and speak out with one voice to advance science, improve patient care and end the suffering caused by FGIMDs."