Award for Clinical Science Investigator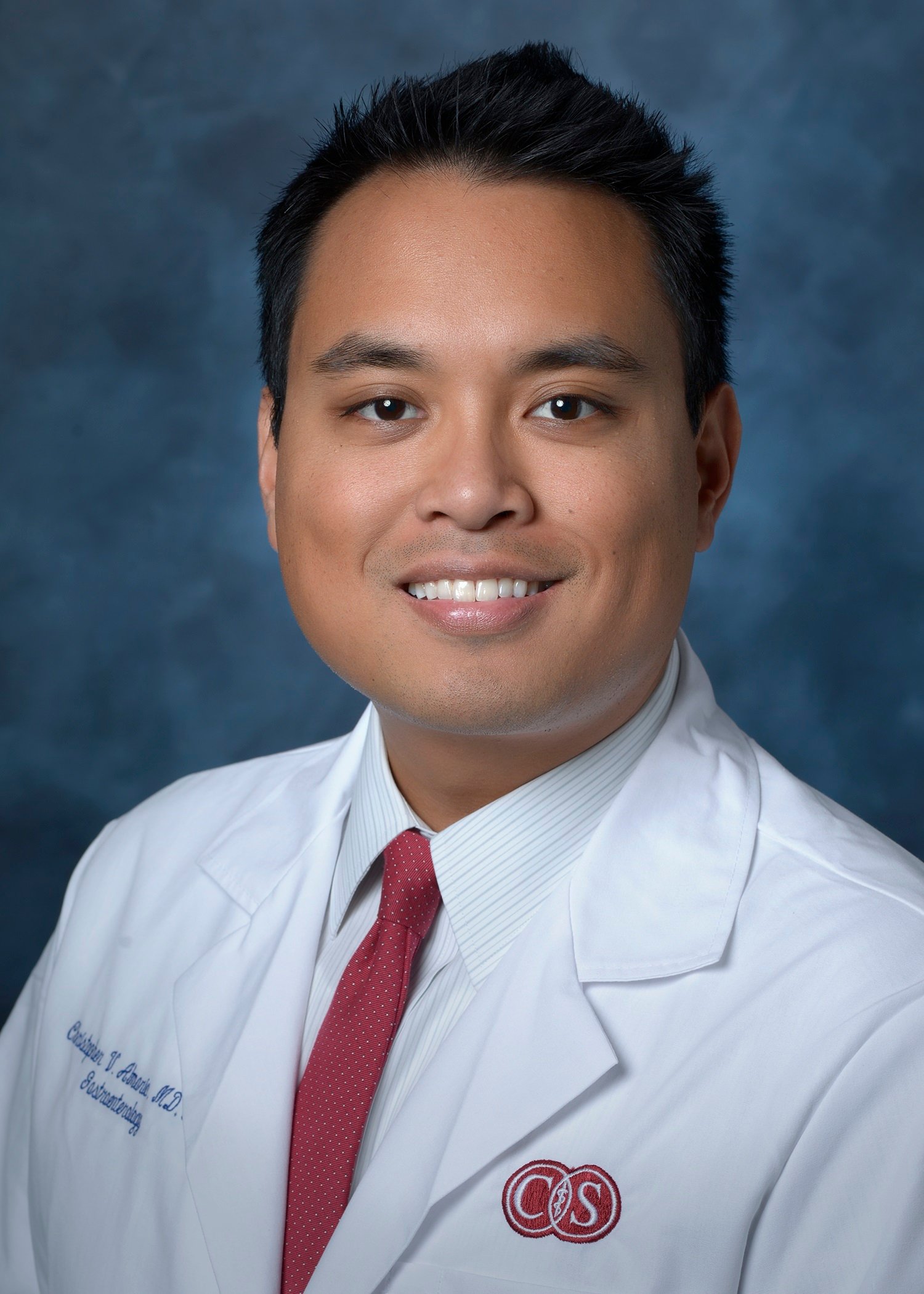 Dr. Christopher Almario's research is focused on developing and validating innovative, scalable, evidence-based technologies that support patients and clinicians in making shared decisions that improve health and reduce costs. He has also conducted a number of studies that deepen our understanding of the epidemiology and impact of functional gastrointestinal disorders (e.g., irritable bowel syndrome, chronic idiopathic constipation, functional heartburn) on patients' quality of life. Dr. Almario's work has been published in Gastroenterology, American Journal of Gastroenterology, Lancet Gastroenterology & Hepatology, Clinical Gastroenterology and Hepatology, and the International Journal of Medical Informatics, among many others. He has also received funding from the National Institutes of Health, American College of Gastroenterology, American Gastroenterological Association, Crohn's & Colitis Foundation, and multiple industry partners.
He is focused on developing and evaluating innovative, scalable technologies that support patients and clinicians by enhancing communication and facilitating behavior changes that improve health. For example, he helped build a patient-provider portal called AEGIS (Automated Evaluation of Gastrointestinal Symptoms) that 'interviews' patients and then converts their responses into a narrative history of present illness (HPI). Clinicians can then review the HPI in the electronic health record prior to the visit so that they can efficiently learn why the patient is seeking care. While AEGIS is 'disease-agnostic' in that it primarily focuses on patients' gastrointestinal (GI) symptoms, its use is especially valuable among those with functional GI disorders (FGIDs) as it is critical for clinicians to accurately and fully assess the symptoms that caused them to seek care in the first place. After building AEGIS, his team conducted validation studies and found that it created HPIs that were more complete and comprehensive when compared to those written by physicians. Most recently, we just completed a study seeing whether use of AEGIS improves provider-centric outcomes (e.g., quality of documentation, charting time).
In addition, he is interested in furthering our understanding of the epidemiology and impact of GI symptoms and FGIDs in the U.S. To help accomplish this, his team completed a study called the "National GI Survey" that recruited over 71,000 individuals across the U.S. to complete the AEGIS algorithm. This robust dataset led to numerous conference abstracts and peer-reviewed publications. For example, it allowed us to examine the prevalence and predictors of GI symptoms, in general, as well as specific symptoms such as fecal incontinence and gastroesophageal reflux disease. Moreover, his team conducted a study that found that the prevalence of lower and upper GI symptoms differ between those with irritable bowel syndrome (IBS) with constipation (IBS-C) and chronic idiopathic constipation (CIC). They also found that abdominal pain is experienced differently among the IBS subtypes; those with IBS-C have more bothersome, frequent, and diffuse pain versus those with IBS with diarrhea (IBS-D) and mixed IBS (IBS-M).
Currently, they are preparing for the "National GI Survey 2" and now aim to recruit 100,000 individuals to complete the study. This time around, in addition to using the AEGIS algorithm, we will also incorporate Rome IV questionnaires. Doing so will allow us to examine the epidemiology of Rome IV FGIDs as well as assess their impact on quality of life and healthcare utilization. Below is a partial list of questions that we will be addressing using this new dataset:
• What is the prevalence and predictors of Rome IV positivity in the general U.S. population for IBS-C, IBS-D, IBS-M, CIC, and opioid-induced constipation (OIC)?
• What other GI symptoms do those with Rome IV IBS-C, IBS-D, IBS-M, CIC, and OIC experience concomitantly?
• What proportion of those in the general population with Rome IV positive IBS-C, IBS-D, IBS-M, CIC, and OIC have sought medical care for their GI symptoms?
• Among those with Rome IV positive IBS-C, IBS-D, IBS-M, CIC, and OIC, are there differences in symptom severity (i.e., diarrhea, constipation, abdominal pain) between those who have and have not sought medical care?
• For those with IBS-C and CIC, what proportion are currently taking prescription medicines? Of those taking a prescription medicine, how satisfied are they with the medicine?
Dr. Almario is also part of IFFGD's Junior Academicians.  Learn more about this physician involvement
Clinical Science is the research approach aimed at understanding the diagnosis and treatment of diseases and disorders through studies involving people, usually carried out in clinical settings.
---
Where is Dr. Christopher Almario Now?

As a part of the 2021 anniversary events, IFFGD created the "Where Are They Now?" interview series designed to allow the gastrointestinal community to reconnect with past IFFGD Research Award winners. We conducted over 30 interviews virtually, to learn about the journey our research winners took and what current research topics they might be working on today. To find out where research award winner Christopher Almario is today watch their interview here.