Award for Senior Investigator in Pediatrics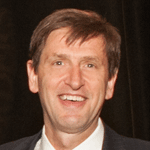 Dr. Di Lorenzo is Professor of Clinical Pediatrics at The Ohio State University and Chief of the Division of Pediatric Gastroenterology at Nationwide Children's Hospital in Columbus, Ohio.
He also chairs the DHA Children's GI Research Network, the only pediatric consortium aimed at studying functional GI and motility disorders in children.
Dr. Di Lorenzo's research spans every aspect of pediatric motility and functional disorders from the esophagus to the bowel.
He has trained many of the specialists and young investigators working in the field today. His work is helping develop new strategies for helping clinicians as well as children and families manage these chronic digestive conditions.
Pediatric Science is the area of medical science concerned with infants, children, and adolescents.
---
Where is Dr. Carlo Di Lorenzo Now?

As a part of the 2021 anniversary events, IFFGD created the "Where Are They Now?" interview series designed to allow the gastrointestinal community to reconnect with past IFFGD Research Award winners. We conducted over 30 interviews virtually, to learn about the journey our research winners took and what current research topics they might be working on today. To find out where research award winner Carlo Di Lorenzo is today watch their interview here.