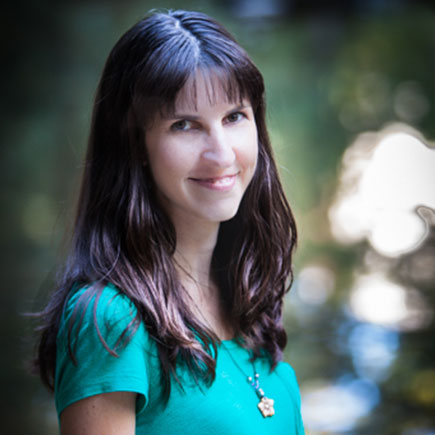 Gastroparesis Advocate Shares the Importance of Finding Your Community
IFFGD talks to gastroparesis advocate and IFFGD Patient Advisory Committee member, Stephanie Torres, about her journey and the importance of finding your voice and your community.
For many, the journey from symptom onset to long-term symptom management is a long and winding one, taking twists and turns and flipping "normal" completely upside down. Here, IFFGD talks with gastroparesis advocate and member of the IFFGD Patient Advisory Committee, Stephanie Torres, about her journey with gastroparesis and the communities she found along the way.
"When someone first meets me, they may think I am a fairly healthy, 37-year-old woman, married with two furr babies, who enjoys being with friends, always has a book to read, and loves to cook, garden, and be creative," Stephanie says. "If they look a little closer, they might then see something sticking out of my chest, see someone a little skinnier than most women desire to be, and see someone avoiding about 98 percent of food at get-togethers." 
It seems like a lifetime ago when Stephanie was first diagnosed with gastroparesis in 2008. She has lived with digestive challenges on and off from the age of 19, shortly after undergoing laparoscopic surgery for endometriosis and ovarian cysts. At the age of 28, after years of pain and discomfort, a gastric emptying test confirmed mild gastroparesis. She wanted to try to manage her symptoms without medication and went on a gluten-free diet, which, for about six months, seemed to change her life for the better. Unfortunately, this did not last, and she began experiencing severe symptoms including fullness and nausea, barely able to take in fluids, and ended up in the hospital with severe weight loss. "I underwent a multitude of tests only to be diagnosed with gastroparesis, once again," she explains.
With medication, rest, and lots of support from her family and friends, Stephanie began to recover and, a year later, began a full-time course in acupuncture. She absolutely loved the program, but "traveling to and from campus every week, which took me 90 minutes away from home, and missing my husband (not to mention the intense study schedule!) was more than I could handle."
By the end of the first year, she had again lost a tremendous amount of weight. She comments, "I was in denial about the diagnosis and determined to live a "normal" life." However, her body could not keep up, and again, she ended in the hospital — this time too malnourished to recover on her own. After unsuccessful trials with several medications and Botox therapy to the pylorus, there was no choice but to be put on a feeding tube. "This is when it hit me," she says, "It was time to accept the situation and really focus on self-care because I would not make it otherwise — a lesson that is easy to forget and that I would have to repeat to myself over the years to come."
In 2014, less than two years after the feeding tube was placed, Stephanie stopped tolerating the feeds and was placed on IV nutrition, also known as total parenteral nutrition or "TPN." This became the main source of nutrients for her and continues to provide much of what she needs to keep living the best life possible.  
"There was a silver lining that began to show its light," she says, referring to when the pharmacy that provides all her nutrients and supplies hired her to be an advocate for others living with the same challenges. "This led to meeting many incredible and inspiring people around the country and I began to attend events, like the annual Oley Foundation conference, that educate and support people just like us," she continues.
 Working to help raise awareness for dysmotility and other gastrointestinal (GI) disorders is a passion that began in 2012 when she first connected with and volunteered for G-PACT, a non-profit organization that provides services to patients affected by digestive tract paralysis, including gastroparesis, chronic intestinal pseudo-obstruction (CIP), and colonic inertia. "To this day, I meet numerous patients who say this was their first source of information and helped them to realize they are not alone after a confusing and scary diagnosis like gastroparesis," she says. Later that same year, Stephanie held her first annual Walk and Ride for Gastroparesis fundraising event in Bellingham, WA with the help of IFFGD, who provided step-by-step guidance on hosting a successful fundraiser. The first three years of the fundraiser brought in close to $20,000 in funds dedicated to gastroparesis research. She also teamed up with the non-profit Wisdom by Nature, who provides complementary and alternative healing tips and support to help individuals with digestive conditions like gastroparesis, helping to co-author a book and raise money towards research.
Food is a central part of life — biologically, psychologically, and socially. "Something that is not often talked about is the emotional trauma that can come from all we go through, both with the challenges of eating and also through events like hospital stays, ER visits, procedures, surgeries, and just an overall life change that continues to be unpredictable," she explains. To further explore this issue, Stephanie interviewed Tiffany Taft, PsyD, a GI psychologist who not only specializes in trauma related to digestive disorders but lives with one herself. To hear about Dr. Taft's experiences, research, and tips for living with trauma and PTSD from a digestive illness, click here. 
Stephanie concludes, "By accepting what I was going through as a part of my life, I was able to slow down and set priorities. I now focus on managing symptoms through diet, exercise, and reducing stress. I've found other things to focus on in life while continuing to put self-care first. This doesn't mean I don't still have bad days, but I have learned how to manage them by not letting the fear take over as well as figuring out what works and what doesn't. For anyone struggling with gastroparesis (or really any severe GI disorder), please know that you are not alone. If I can give any advice it would be to reach out and connect with others who can relate to you, whether it be through social media or volunteering with non-profits like IFFGD, G-PACT, or Wisdom by Nature."
"Advocate for yourself and let your voice be heard."