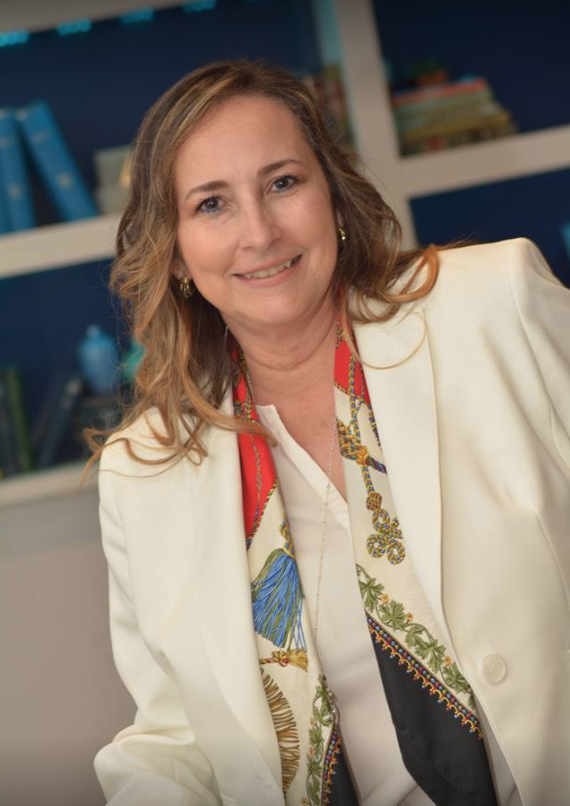 IFFGD Patient Advisory Committee member and CELAH Program Manager, Claudia Chaparro-Rojas, reflects on a decade of serving the health needs of the Latino community of central North Carolina.
This year marks the 10th anniversary of the University of North Carolina (UNC) Center for Latino Health (CELAH), a global, grant-funded program initiated by UNC Professors of Medicine Douglas Morgan, M.D., and Marco Alemán, M.D., Daniel Reuland, M.D., and IFFGD Patient Advisory Committee member, Claudia Chaparro-Rojas. Starting out with the goal of improving the care Latino patients receive at UNC, CELAH has expanded over the last 10 years to bolster advocacy in the Latino community, conduct and support research into health issues affecting the Latino population, and train health care providers from all disciplines to provide effective care for this population.
Central to CELAH's mission of identifying and addressing the health needs of the Latino community in central North Carolina, CELAH has partnered with regional and state advocacy groups (e.g., El Pueblo, El Centro Hispano, and the North Carolina Hispanic Association), professional socieities and foundations (e.g., the American Cancer Society and the American Heart Association), and the county health departments. Additionally, CELAH has worked closely with the Consulate of Mexico in Raleigh, supporting programs such as the national Ventanilla de Salud hosted by the Consulate and co-sponsoring an annual health affairs international webcast during the Mexico-U.S. Health Week (Semana Binacional de Salud). CELAH's accomplishments have been recognized at the university, state, and international levels, winning the Ohtli Award from the government of Mexico and the North Carolina Diamante Award. More recently, Claudia was awarded the Community Service Person of the Year for the Latin American Excelente Awards 2018. On an individual level, she also works as a research coordinator for NC TraCS and Enlace to recruit Latino patients for UNC principal investigators for research studies.
Growing up in Cúcuta, Colombia, Claudia has a heart for the Latino community that is reflected in her work for CELAH. "Claudia has an unparalleled passion and commitment in service to the North Carolina Hispanic-Latino populations," said CELAH Director, Dr. Douglas Morgan. "This innovative clinical care model in the service of Latinos, primarily foreign-born individuals, would not have been possible without Claudia's leadership, perseverance, and efforts."
Here, Claudia shares more about CELAH's work on behalf of the Latino community and how the personal experience of living with a chronic digestive condition influences her relationship to the community of patients she supports.
What are some of the barriers to care Spanish-speaking patients face, and how does CELAH help address them?
"The main barriers that Latino patients have are the limited language skills and cultural difference barriers. One of the ways we help Spanish-speaking patients is through the Latino clinics, since patients can speak Spanish from the moment they walk in the door. We help guide them through the health system and assure them we're the primary contact to assist them with all their needs — appointments, medicines, financial counseling, pharmacy assistance."
In 2014, CELAH transitioned to the Department of Pediatrics at UNC. How does CELAH specifically help children and adolescents.
"In 2014, CELAH and the UNC Children's Hospital organized a navigation program for Latino families. We help patients and their families navigate through the health system, and we accompany them to interpret during triage with the nurses. We also follow along with them after their medical appointment, so we can assist them with follow-up appointments and other needs."
Individuals with chronic health conditions, including chronic digestive disorders, face unique challenges managing chronic and sometimes life-long symptoms. How does CELAH help individuals affected by these conditions get the care they need?
"CELAH helps gastroenterology patients in education. It is very difficult for the Latino community to understand what it is like to have a chronic illness. It is also difficult for them to understand that they must take certain medications for life and embed these habitual practices into their daily lives. We also help patients make appointments for different procedures and explain the importance of preparatory steps to take beforehand."
You are a member of IFFGD's newly formed Patient Advisory Committee, a group of patient and family members working alongside IFFGD to support the digestive health community. Can you tell us a little about your own experience with a chronic digestive disorder?
"I have suffered from gastritis and acid reflux for five years. It is very frustrating to have these different symptoms at the same time. I avoid irritating foods most of the time, and although I take care of what I eat, I still have many symptoms that do not go away even while taking medication. I have experienced the inconvenience of these symptoms in my day-to-day life and I truly wish there was a miraculous cure to normalize the sensitivity of my disorder."
How have your experiences as a patient helped shape your work at CELAH?
"My experiences as a gastrointestinal patient have helped me to better understand the needs and fears that patients face during their medical journey. As a Latino patient, it has helped me identify what common mistakes people make in regards to lifestyle, nutrition, and medication."
What is your greatest joy in working with CELAH?
"It motivates me every day to go to the clinic, seeing the faces of the nurses and administrative staff who appreciate that I, as a bilingual speaker, can help them communicate with Latino patients without any hiccups.
"I love going to the Latino clinics to help, educate, and guide the patients who need it so much. I love the feeling at the end of my workday because I know I made a difference in peoples' lives."
Congratulations to Claudia and the CELAH staff at UNC for 10 years of service to the Latino community and their commitment to improving care for this population.
*Photo courtesy of La Noticia