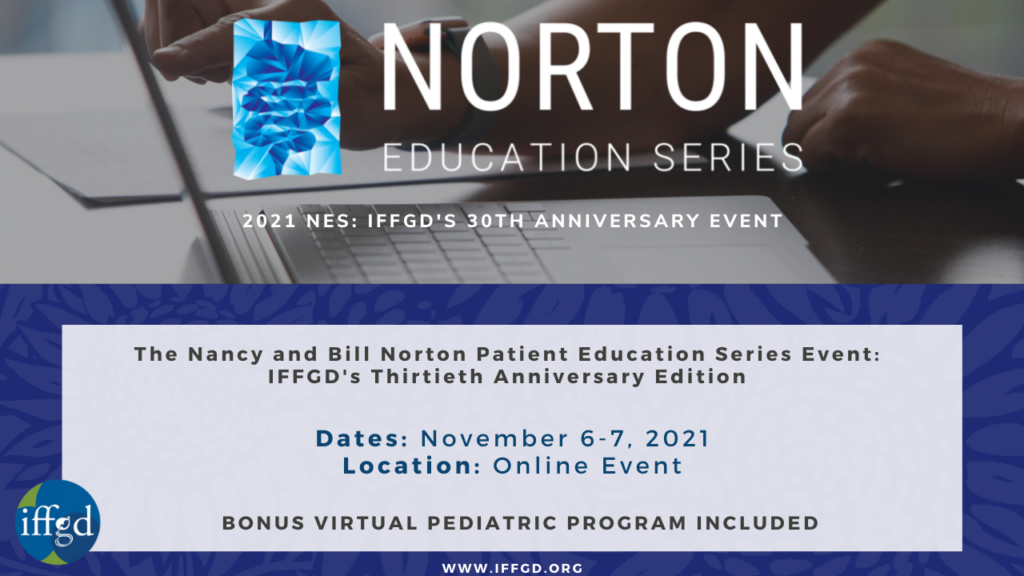 MOUNT PLEASANT, S.C., Sept. 29, 2021 /PRNewswire/ — IFFGD recently announced the upcoming dates for its free two-day virtual education event, presented for those impacted by chronic gastrointestinal (GI) disorders. Broadcast on November 6-7, the event features live hosts and a full spectrum of content related to GI disorder education, along with a separately filmed pediatric-GI themed presentation that will be made available to registrants. The conference includes talks, lectures, roundtables, and virtual exhibits on the IFFGD website for sponsors and other nonprofit organizations who offer additional patient services and resources. This year's program is a special edition as 2021 marks the IFFGD nonprofit organization's 30th year anniversary. For a full list of speakers and topics, or to register for the event, please visit the annotated schedule online.

"We're extremely pleased to be hosting the Norton Education Series conference again, as it's such a significant resource for so many," said IFFGD President, Ceciel T. Rooker. "The decades have seen many accomplishments and milestones for the organization, but this year is particularly special as it marks our 30th anniversary. When I began my duties here, four years ago, I was honored to continue the legacy started by our founder, Nancy Norton, who knew how crucial our organization would become to so many people both nationally and across the globe. I've also always known how important our work here has been and continues to be. For this year's program, we've been extremely fortunate to have assembled a prestigious panel of GI experts and practitioners across so many fields. Their combined expertise in these differing yet related topics is a real treasure, and we look forward to sharing their wisdom with our attendees."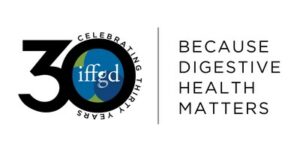 IFFGD: A Trusted Patient Resource for 30 Years
The series is a mix of pre-recorded videos and live feed, all streamed from the IFFGD website. This year's Program Committee chair is William Chey, M.D., with Lin Chang, M.D., and John Pandolfino, M.D., serving as Co-Chairs. Ceciel Rooker will co-host the event. During the two-day conference, medical education sessions offer patients the opportunity to discuss and learn about the pathophysiology of different parts of the GI system, along with exploration of the diagnostic tests associated with diagnosing GI disorders.
Talks focus largely on symptom presentation, educating attendees on what is normal and what should merit concern. Another dedicated part of the event – the Medical Education Session, Treatment Options – informs patients on both pharmacological and surgical treatment options for the various GI disorders. Other sessions include information on behavioral treatments, dietary interventions, and complementary and alternative medicinal approaches to GI disorders. Open panel discussions will be released after the broadcast event, and will include answers to a curated list of viewer questions.
A special separately filmed virtual presentation hosted by multiple pediatric expert practitioners, focusing solely on pediatric-related GI issues will be released to registrants on November 7th. A link to this presentation will be emailed to registrants, allowing them to view the pediatric program at their leisure.
This year's keynote lecture will be delivered by Dr. Douglas Drossman, a longtime supporter of IFFGD and its founders, Nancy and Bill Norton. Dr. Drossman will discuss the history of Functional Gastrointestinal and Motility Disorders and IFFGD in general.
For the latest information on GI disorders, treatments, or updates on future events, follow IFFGD on social media: YouTube, Twitter, Facebook, Instagram.
About International Foundation for Gastrointestinal Disorders (IFFGD)
Founded in 1991, IFFGD is a nonprofit education and charity research organization dedicated to helping inform, assist, and support people affected by digestive disorders. IFFGD works with patients, families, physicians, nurses, practitioners, investigators, regulators, employees, and many others to help broaden understanding of GI disorders, support and encourage research, and improve digestive health in both adults and children. With a wide variety of advocacy activities and public education events, IFFGD is a recognized industry leader in advancing positive agendas for those suffering with gastrointestinal disorders. Learn more at: www.IFFGD.org.
Media Contact:
Jamie DuMont
1-414-964-1799
318157@email4pr.com
SOURCE International Foundation for Functional Gastrointestinal Disorders (IFFGD)
Related Links