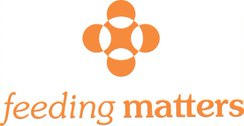 Established in 2006, Feeding Matters is the first organization in the world uniting the concerns of families with the field's leading advocates, experts, and allied healthcare professionals to improve the system of care for pediatric feeding disorder through advocacy, education, support, and research. 
Defined as impaired oral intake that is not age-appropriate, and is associated with medical, nutritional, feeding skill, and/or psychosocial dysfunction, pediatric feeding disorder is estimated to affect more than 2.3 Million children under the age of 5 in the United States1. 
For these children, eating, drinking, and swallowing are painful and frightening – ultimately affecting their behavioral, physical, and emotional development. Yet, there is no functional system of care for pediatric feeding disorder locally, nationally, or internationally.  
Our Mission is furthering advances in pediatric feeding disorder by accelerating identification, igniting research, and promoting collaborative care for children and families.    
Our vision is a world in which children with pediatric feeding disorder will thrive.