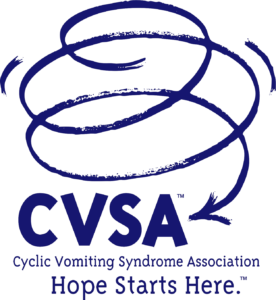 The Cyclic Vomiting Syndrome Association (CVSA) serves the needs of cyclic vomiting syndrome (CVS) sufferers, their families, and professional care givers by raising awareness and providing education and support to those affected by cyclic vomiting, abdominal migraine, and related disorders, while advocating for and funding research.
Established in 1993, CVSA has grown from a handful of interested parents and professionals into a network that includes over 40 medical advisors and volunteers serving in the U.S. and Canada, as well as over 30 other countries worldwide.
As an association, we have two primary objectives: to work toward a cure by supporting several promising research initiatives, and to assist our members by strengthening communications and offering a wide range of resources for their education and support.
What is CVS?
CVS is an unexplained disorder of children and adults that was first described by Dr. S. Gee in 1882. The condition is characterized by recurrent, prolonged attacks of severe nausea, vomiting, and prostration with no apparent cause. In some, there is severe abdominal pain. Vomiting occurs at frequent intervals for hours or days (1-4 days, most commonly). The episodes tend to be similar to each other in symptoms and duration and are self-limited with return of normal health between episodes.